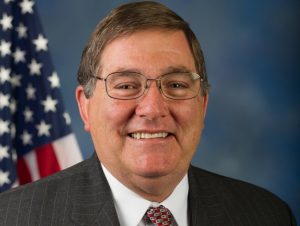 U.S. Congressman Michael Burgess (R-TX) last week re-introduced H.R. 2049, the Unaccompanied Alien Children Assistance Control Act, which would reduce foreign aid to El Salvador, Guatemala and Honduras by $30,000 for each of their unaccompanied children — who are not U.S. citizens — placed in U.S. federal custody because of their immigration status.
"With the current humanitarian and security crisis overwhelming resources at our southern border, Congress must act to address the cycle of irregular migration from El Salvador, Guatemala and Honduras," Burgess said in a statement. "It is inhumane for the American government to incentivize human traffickers to bring children on the dangerous trek to our border. It also is wrong to charge American taxpayers both for generous foreign aid to the Northern Triangle region and for the expensive care required for unaccompanied alien children who reach our border from these countries – at the steep expense of more than $1.3 billion each year."
El Salvador, Guatemala, and Honduras receive millions of dollars in foreign aid each year as part of the Central American Regional Security Initiative, but the U.S. also funds Health and Human Services Office of Refugee Resettlement care for migrant children from these countries, according to Burgess' office. Over the past five years, nearly 50,000 children were referred to ORR care per year. At an average cost of $30,000 per child, the total expense of this care has averaged $1,352,760,000 per year.
"As I witnessed firsthand during my trip to the Northern Triangle countries last summer, the governments of El Salvador, Guatemala, and Honduras are ill-equipped to combat the systematic corruption that plagues this region. Congress must not permit American taxpayer funds to line the pockets of corrupt foreign government officials. In this case, foreign aid can be a catalyst for change, Burgess said. "This commonsense approach, which would begin to hold government officials of El Salvador, Guatemala, and Honduras accountable for the wellbeing of their people, is the best way forward."
The Unaccompanied Alien Children Assistance Control Act is intended to disincentivize the journey to the U.S. southern border to protect unaccompanied children and American taxpayer dollars. Burgess has introduced this legislation each Congress since 2014, beginning at the height of the unaccompanied minor crisis. The full text is available here.
Burgess represents Texas' 26th district, which includes Denton County and part of Tarrant County.