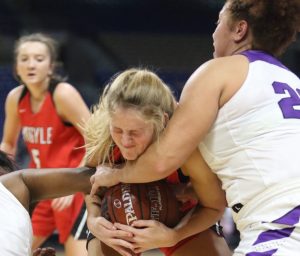 by Brady Keane
Rhyle McKinney scored 29 points, including four free throws in the final 30 seconds, to help Argyle survive a dramatic comeback from Dallas Lincoln in a 53-51 win in a Class 4A state semifinal Friday afternoon at the Alamodome.
The win marked the second straight year McKinney used late-game heroics to knock Lincoln out of the playoffs, as the star junior drilled a shot just before the buzzer in the third round of the playoffs last year to give Argyle a 65-63 double-overtime win over the Lady Tigers.
The Lady Eagles have now knocked Lincoln out of the playoffs in four consecutive seasons and will play Hardin-Jefferson, which beat Burnet 49-44, at 7 p.m. Saturday in the 4A state championship game.
"I wasn't really nervous," McKinney said of the game's final seconds. "I knew we had it because we had played so well the rest of the game."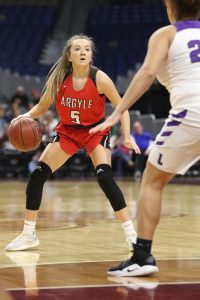 Argyle led 14-1 at the end of the first quarter, using stifling defense to force Lincoln to miss its first 13 shots from the field. But the Lady Eagles struggled to take care of the ball on the other end of the court and an abundance of turnovers allowed the Lady Tigers to fight their way back into the game.
Lincoln scored 27 points on 24 Argyle turnovers and took a 51-49 lead in the fourth quarter after a free throw from Alexis Brown with 39 seconds remaining. But the Lady Eagles didn't panic, and McKinney stayed perfect at the free throw line to help the team win its 21st straight game.
McKinney finished with 29 points, seven rebounds and five assists while Kiley Lavelle chipped in 12 points off the bench and Abby Williams added seven points and 11 rebounds. The Lady Eagles went 17-of-21 from the free throw line while Lincoln was just 4-of-21.
Argyle will now turn its attention to Hardin-Jefferson as the Lady Eagles attempt to become just the third team in UIL history to win five consecutive girls basketball state championships.
"Hardin-Jefferson is a great team," Westmoreland said. "They have a lot of firepower on offense, and they look like they're a second-half team. I've watched them several times this year – they have some really good offensive players and they have a good all-around team. They're in the state championship game for a reason, so tomorrow we just have to focus.
"We can enjoy this game for about an hour and then we have to turn our focus to Hardin-Jefferson. That's what's so good about this team – we did it the other night when we beat Canyon and then really focused on Levelland and came back and beat them. These girls are close – I have no doubt they'll come out here ready to play tomorrow."