In 2010, the Coram Deo Academy Flower Mound boys basketball team set a school record with 25 wins in a season.
In 2019, the objective is even more auspicious.
The Lions were 20-5 with seven games remaining in the season in late January, and coach Fonzo Martinez said confidence was high among his players that 2019 could be very special.
"The goal is a state championship," Martinez said. "That's something basketball has never done before, and we want to bring that to our school. I feel good about our team, our defense has really been our identity this year. We have a saying on our team and that's "defense travels". So regardless where we are if our shots aren't falling, our defense can always give us an opportunity to win the game."
Fast forward to Feb. 12 when the Lions faced Kennedale Fellowship Academy in a play-in game for second place spot in the district, and Coram Deo set a new school record, earning it's 26th victory of the season.
Coram Deo has wins over Fellowship Kennedale, Ovilla Christian, and McKinney Christian, and defeated Dallas First Baptist in the championship of their tournament earlier this season.
Martinez said he believes there are a couple of reasons for the Lion's achievements on the court this season.
"I'd attribute our success to the Lord, and the culture we've established in the program," Martinez said. "We have a team that's so close off the court, it's helped them be successful on the court. There's a great group of leaders on this team, that are selfless and challenge one another to keep improving every day."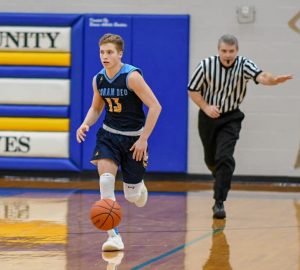 The Lions have also come to rely heavily on point guard Noah Taylor, who is one of the top scorers in the Metroplex this season, averaging just under 24 points a game.
Taylor, 17, said that he and his teammates were optimistic as the Lions made their push toward the post-season that 2019 could be a record-setting year.
"I feel like we have the opportunity to be Coram Deo Academy's winningest men's basketball team in the history of the school, and that's very exciting to me," Taylor said in an interview late last month.
The Coram Deo junior point guard said his team's goal this season is to reach the post-season and make a run at a state title.
"Personally, I want to improve every game and do everything I can to put my team in a position to win," Taylor said.
Martinez said Taylor is exactly the kind of player that coaches hope for when they want to build a winning program.
"Noah is a great basketball player, but an even better teammate," Martinez said. "It's not always easy to play the point guard position, and I ask a lot of him. But he loves to be challenged, and coached."
Martinez said when he thinks about what his team is capable of in 2019, he reflects on the 2017 season when Coram Deo reached the TAPPS 4A playoffs for the first time.
"This years team came in with the expectation to be successful," Martinez said. "It wasn't always like that, but that team in 2017 really turned things around. Now we have different expectations and our past teams are a big reason why. In 2017, we faced Lubbock Trinity in the first round and lost. They (Lubbock Trinity) went on to become state champs that year."
Martinez is confident that his team can make some noise in the playoffs in 2019, but also wants his players to remain focused on what a truly successful season is.
"If we give everything we have to attain success, and use all the success to glorify God, I believe that would be a successful season for us," Martinez said.
Coram Deo will open up the playoffs at 7:30 p.m. on Feb. 19 against Tyler All Saints at a location to be determined.