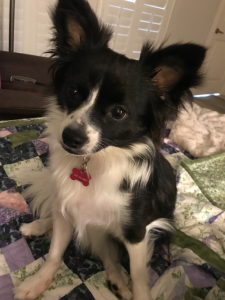 A little rescue dog is being hailed a hero for alerting a stranger about a house fire, helping to save the elderly couple inside.
Sandra Thayer said that one day in late December, her foster dog, Migyrl, uncharacteristically took off, squeezing under the fence.
"She's always by my side, but that day I turned around for a second and she was gone," Thayer said.
Thayer began searching for Migyrl — a 2.5-year-old terrier/Pomeranian/chihuahua mix she adopted from Dashing Dog Rescue about a year earlier — around her Lantana neighborhood, but to no avail. She posted about her missing on dog on social media, and eventually a nearby resident found Migyrl and returned her home unharmed.
A few days later, Thayer got an unexpected email calling Migyrl a hero.
Around the same time that Migyrl escaped her yard, an electrical fire was starting in the garage of a home that backs up to Lantana. The elderly couple inside the home were resting, unaware of the fire.
Nancy Medina, a cleaning lady who services that home and the home next door, was beating a rug in front of the home next door when she saw a loose little black and white dog yipping and running excitedly in the yard, "raising quite a fuss," said one of the homeowners.
Medina stopped to look around for what might be causing the dog to act like that, and saw the smoke coming from the other house. She ran over and opened the front door and hurriedly got the elderly couple out of the house safely.
The electrical fire destroyed much of the inside of the house, and it will take the better part of a year to repair, said the homeowner, who asked to remain anonymous. The home was insured, and though they lost possessions, they are grateful that no one was hurt and thankful for Migyrl.
"We're so grateful for the chain of events, all the things that came together that made that happen," said the homeowner's daughter. "Too many things that happened right that day, I feel that it was the hand of God."