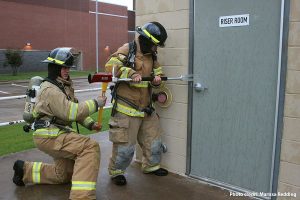 For several years, the idea of a firefighter program had been discussed by Lewisville ISD's Career and Technical Education (CTE) department.
It wasn't until Lewisville High School (LHS) Assistant Principal Monica Story and LHS Lead Counselor Maria Ortiz attended a presentation at North Central Texas College (NCTC) and visited the firefighter program up-the-road at Lake Dallas High School, that the idea would soon become a reality.
The two proposed to LHS Principal Jeffrey Kajs that LHS bring NCTC's dual credit program to campus, and that proposal quickly transitioned into a district-wide program.
"Through district support, partnering with NCTC and the Lewisville Fire Department, we were able to open the program to all five high schools," Story said. "We saw a need for our students to have another avenue for post-secondary career readiness, and we are so excited to have the firefighter program at Lewisville High School."
Today, more than 20 students from LHS, Flower Mound High School (FMHS), Marcus High School (MHS) and The Colony High School (TCHS) are a part of the Lewisville ISD Firefighter Program. The program, which is housed at LHS due to its central location as well as its proximity and partnership with the Lewisville Fire Department (LFD), began accepting applications last spring and admitted students officially began participating in the program at the start of the 2018-2019 school year.
"Monica and Maria were the ones who really got the ball moving with NCTC and the LFD to make this happen for 2018-2019," CTE Director Adrian Moreno said. "This program also creates another option in the law and public safety cluster for those students interested in working as a first responder."
Per an informational piece for students and parents, the collaboration between LISD, LFD and NCTC has resulted in two-year program that enables its participants to earn a total of four elective high school credits, 24 college credit hours, Texas Commission on Fire Protection firefighter basic certification and Texas Department of State Health Services EMT certification. Members of the Fall 2018 cohort are all juniors and will continue in the program through the end of their senior year.
One of the long-term goals for the program is to produce certified firefighters to serve in the Lewisville area as well as the State of Texas. Although other districts offer similar programs and have been helpful in the development of LISD's program, Moreno is hoping the LISD Firefighter Program will stand out through the quality of firefighters produced.
"To be the top program, we will have to produce the best trained, best prepared and most fit trainees," Moreno said. "We will do that by providing top-notch facilities, equipment and instruction."
Classes are instructed by Greg Rohre, a City of Lewisville firefighter and for the first year of the program, students will focus on firefighting. During the second year, focus will be on both firefighting and EMT training with students participating in live fire skills training after completion of the third semester. Students are now halfway through their first semester in the program and according to Story, participants are excited to be a part of this inaugural class.
"It's a great opportunity for LISD students to be career ready graduates and have the opportunity to pursue a career as a firefighter right out of high school," Story said.
For TCHS junior Matilyn Cady, her planned future includes a career in the fire service.
"It was cool how it all worked out," Cady said. "I originally was planning on going into the fire service, which I kind of decided over the course of the last year. Some of my teachers asked me, 'Hey, did you hear about this new program?' and I was like, 'What? That's awesome!' So, I went to my counselor to get more information about it, and it's perfect for me. It's something I want to do."
LHS junior Haley Dorr said she knew wanted to pursue law enforcement or fire service, and when she heard about LISD's new program, she thought it would be a great way to get her foot in the door.
"This program is a great way to get a head start on a job," Dorr said. "I love it, and LISD has been very accommodating in getting us all the resources we need."
Similar to Dorr, FMHS junior Korey Gebert said he's always been interested in a career in the fire service, but wasn't sure how to get into the field.
"My mom came home with information about the program, so I went to the (informational) meeting and decided it was something I really want to do," Gebert said. "So far, it's been really great."
MHS junior Bryce Sherwood's father is the assistant fire chief at the Grapevine Fire Department. His dad, he said, was part of his inspiration for applying to the program.
"I've been around it all my life, and it's something I want to pursue as a career," Sherwood said.
He added, "I really enjoy the hands on aspect of it and getting to work with the tools, it's really cool."
The LISD Firefighter Program is just another way the district works to ensure students enjoy thriving, productive lives in a future they create.
"These students can be certified and working as a firefighter at the age of 18," Moreno said. "This is a true straight-to-work certification program."