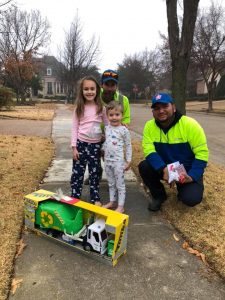 Callum Thomann is a huge fan of garbage trucks.
The 3-year-old Flower Mound boy "has always been fascinated by them," said his mother, Charlsi Thomann. For about two years, Callum "sits out there every Wednesday, waiting for them. He knows all the different kinds of trucks, he knows if it's Waste Management or Republic Services."
Rain or shine, Callum never misses the garbage truck coming down his street every Wednesday — unless he's still at preschool. That kind of dedication has created a relationship between the two crews of two trash collectors and their biggest fan.
Last month, on the last Wednesday before Christmas, the four men brought a surprise with them — a Tonka garbage truck for Callum.
"They told me that Wednesday is their favorite day of the week, because they get to see him smiling and waving – that they feel so appreciated and special," Charlsi wrote on social media. "And you know what? Cal feels special, too."
The four Republic Services employees had come together to buy Cal the truck and sign a card for him. But that day, Cal's older sister, Cora, was home sick from school.
"They never see her so they didn't have a gift for her, but they gave her a gift card and some cash," Charlsi said. "We tried to tell her not to take it, but they insisted on giving it to her. They were so nice.
"It's hard to convey how that feels when you know someone is out there working hard every day and still feeling that generous."