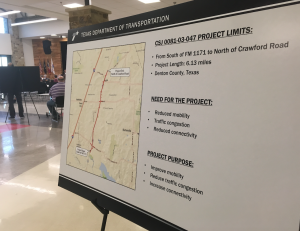 Denton County commissioners voted Tuesday to give nearly $1 million to the Texas Department of Transportation for the upcoming Hwy 377 widening project.
The commissioners approved $982,275 to TxDOT for right-of-way acquisition along Hwy 377 in the Argyle area and to help pay for utilities to be relocated before the road can be widened.
The $90 million project will widen Hwy 377 — from a two-lane rural highway to a four-lane divided highway — from FM 1171 to Crawford Road and is expected to be environmentally cleared this month, prompting the commissioners' vote Tuesday, according to Shannon Joski, chief administrator for the office of Andy Eads, the Precinct 4 commissioner and County Judge-elect.
Joski said the total estimated cost of right-of-way is more than $6 million, and the county has provided $607,275 for that. The state should be able to begin acquisitions by next month.
The project is expected to let in January 2022.