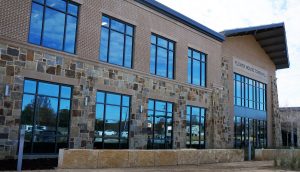 Town of Flower Mound employees have begun moving into the new Town Hall.
Various departments will be moved throughout the week, with everyone moved in by Friday, according to a town news release.
The Customer Relations Division will make the move on Tuesday, and during that time, the service request hotline (972-539-SERV) will be down for an undetermined amount of time, according to the town. For all requests and questions on Tuesday, email Customer Relations at [email protected]ound.com or call the town's main line at 972-874-6000. Residents can also submit online service requests.
The Utility Billing Division will transition to the new Town Hall on Wednesday, but a Utility Billing representative will remain at the old Town Hall until the new building is up and running.
The $15 million project is located on the same property as the current Town Hall, in the southeast corner of FM 1171 and Morriss Road. The new bigger building will be able to house all town staff. Currently, Environmental Services, Facilities Management, CIP/Construction Plan Management and Development Services staff work in the Atrium because Town Hall is full. Once all current Town Hall staff move in to the new Town Hall, the current Town Hall building will be demolished to expand parking, and once that is done, staff stationed at the Atrium will move in to the new Town Hall.