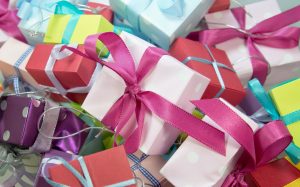 A Flower Mound business is partnering with A Soldier's Child Foundation to give birthday gifts to kids who lost a parent in the military, including throwing a party for one Flower Mound girl.
A Soldier's Child Foundation and Owens & Minor — a medical supplies distributor with a distribution center on Lakeside Parkway — are inviting the community to help shop for and wrap birthday gifts this week for about 200 ASC children with December birthdays. Every year on their birthday, ASC children receive a big brown box in the mail decorated with drawings, kind words and "Do not open until child's birthday." Inside are purple wrapped gifts with shiny silver ribbon and gold bows.
ASC and Owens & Minor will also throw a birthday party for a Flower Mound girl, Mila, who is almost 9 years old. Her father was in the Army stationed in Afghanistan, where he lost his life in 2010. Mila and her mother, stepfather and four siblings will all attend the birthday party at Owens & Minor.
The first part of this effort will be from noon to 2 p.m. Friday at the Walmart at 190 East Round Grove Road in Lewisville, where volunteers will shop for over 1,000 gifts for all the ASC kids. Shopping is of no cost to the volunteers, who will be given a Gift Interview Form which contains a child's likes, interests, hobbies, wanted games and clothing.
Then on Saturday, from 8 a.m. to noon, volunteers will gather at Owens & Minor, 550 Lakeside Parkway, Suite 200, to wrap over 1,000 gifts and decorate the boxes. All wrapping supplies are provided as well as instructions.
When wrapping concludes, the birthday party for Mila will be held at the same location from noon to 1:30 p.m.
Volunteers can sign up for one, two or all of the shopping, wrapping and birthday party slots. Click here to sign up.