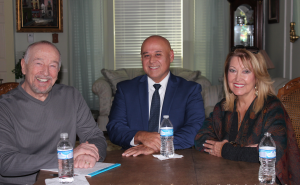 In the last few years Denton County has become one of the fastest growing counties in the country. Currently there are about 800,000 residents, according to the U.S. Census Bureau. In anticipation of future transportation needs, the Denton County Transportation Authority was formed in 2002. DCTA coordinates and advances the public transportation alternatives for millions of passengers. Recently, Raymond Suarez became the Chief Executive Officer for DCTA. Mr. Suarez was previously the Chief Operating Officer at DCTA, and he was responsible for developing, organizing, and directing the implementation and operation of the agency's transportation and maintenance services and functions for the A-train and bus system. Former Highland Village Mayor Dianne Costa, a DCTA board member participated in the video interview. The following is from information about Mr. Suarez, sent by DCTA for this interview:
"Suarez is a proven transit operations and technology leader with more than 30 years of experience in the public and private sector. Prior to DCTA, he served as Chief Administrative Officer for the Trinity Railway Express (TRE), in which he oversaw aspects of TRE contracts, safety, operations, maintenance, and capital programs. During his tenure, Suarez developed the agency's annual budget, managed the TRE's long range capital investment program and state of good repair model, and worked with the regional transit agencies to ensure adherence to annual authorizations. He also worked with regional partners to develop a 10-year cash flow for TRE, DCTA and Trinity Metro in support of the new regional operations and maintenance solicitation.
"Prior to the TRE, Suarez served in multiple leadership roles within the transit and technology industries, including Dallas Area Rapid Transit (DART), Reactrix Systems, General Dynamics, Superconducting Supercollider and Trans Industries, Vultron Inc.; and provided consulting services for various companies throughout his career. Suarez holds a Bachelor's Degree in Business Administration from Texas Wesleyan University." For more information, click here. For How to Ride – Passenger Info, click here.