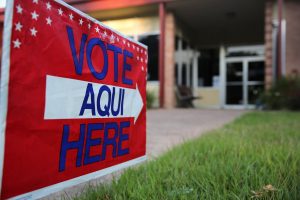 Early voting started Monday at a brisk pace in Denton County, with numbers exceeding the 2016 presidential election, a rarity for a midterm election.
Voters posted on Facebook about long lines at early voting locations across the county.  The wait time at Flower Mound Police and Court Building on Kirkpatrick Lane ranged from 45 minutes to over 1.5 hours on the first day of early voting.  Voters also reported long wait times at Highland Village City Hall.  There were no lines reported at the Southwest Courthouse in Canyon Falls.
Denton County Elections reported that 19,045 voters took advantage of early voting Monday.  That number exceeds 2016, a presidential election, year by 12 percent.  On the first day of early voting in 2016, Denton County had 16,955 early voters.
These numbers only include in-person votes.  Mail-in totals mirrored the increase.
In 2016, there were 5,030 mail-in ballots received on the first day of early voting.  Monday, there were 5,650, a 12 percent increase.
Early voting continues through Nov. 2.  Lines tend to get shorter as the early voting period progresses.
Some of the information in this article courtesy of The Lewisville Texan Journal.