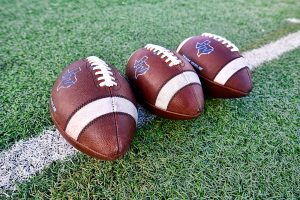 Flower Mound 38, Hebron 35
The Jaguars trailed on four separate occasions on Friday night, but ultimately emerged victorious against district rival Hebron.
Blake Short passed for 355 yards and five touchdowns, and Reid Touchstone finished the game with 128 yards receiving and three touchdowns.
Pierce Hudgens rushed for 172 yards against Hebron, Reece Carter caught a touchdown pass in the game and Bert Auburn kicked a 39-yard field goal for the Jags.
The Jags improved to 5-2 on the season and 4-0 in district.
Flower Mound will play at 7 p.m. on Friday, Oct. 26 against Marcus in the Battle of the Mound.
Argyle 34, Paris 26
Tito Bryce rushed for 155 yards and two touchdowns on Friday night, as Argyle faced one of its most difficult opponents of the season.
John Crowder scored on a pass from Bo Hogeboom and Luke Farris scored on a touchdown run.
Grant Shaw kicked a pair of field goals (18, 32) late in the game to help seal the 34-26 victory for the Eagles.
Friday night's victory marks 30 straight wins at Eagles Stadium.
Argyle will play at 7 p.m. on Friday, Oct. 26 at Melissa.
Coppell 24, Marcus 23
The Marauders led 20-7 heading into the fourth quarter of Friday's game against Coppell, but the Cowboys rallied to defeat Marcus by a point.
Garrett Nussmeier passed for 225 yards and a touchdown in the game and Justin Dinka rushed for 85 yards and a score.
Evan Greene caught a 74-yard touchdown pass and finished the game with 96 yards receiving, and Matt Heffernan kicked an 18-yard field goal for the Marauders.
Marcus will square off against a red-hot Flower Mound team at  7 p.m. on Friday Oct. 26.
Guyer 31, Keller 17
The Wildcats scored 24 unanswered points after trailing early on Friday night to defeat Keller.
Kaedric Cobbs led the way offensively for the Wildcats with 187 yards rushing, two touchdowns on the ground and one from the air.
Eli Stowers passed for a touchdown and rushed for a touchdown and Cole Schroeder kicked a 21-yard field goal in the game.
Guyer will next play at 7 p.m. on Thursday Oct. 25 against Northwest Eaton.
Liberty Christian 42, Midland 34
The Warriors took down Midland in a big district matchup on Friday.