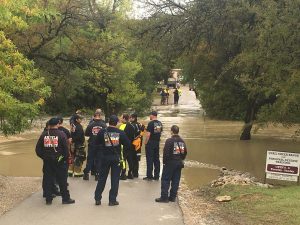 The Argyle Fire District and other first responders helped about 50 people who were stranded by high water get to safety.
Crews responded to a call about a potential high water rescue just before 1 p.m. Saturday at Quail Creek Shooting Range, located on the north side of FM 1171 west of I-35W, according to Argyle Fire District Assistant Chief Mike Lugo. Heavy rain had caused the nearby creek to overflow. Deep, swift water was flowing across the only driveway in and out of the shooting range, leaving about 15 adults and 35 kids stranded.
Lugo said he saw the water go down about a foot in just about 10 minutes when he first got there, so he told the stranded folks that they could just wait it out and they'd be able to drive out. But after about an hour, Lugo said the water rose, so crews tried to come up with another game plan to get the 50 people out. They eventually found a way for the stranded people to walk north, away from the water, and get back to the road another way.
The entire rescue effort took about three hours, Lugo said. Personnel from the fire departments of Denton, Justin and Roanoke assisted the Argyle Fire District, as did Northlake police officers.