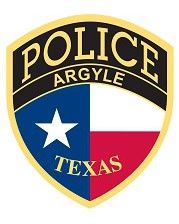 The following is a summary of incident reports recently made to the Argyle Police Department as compiled by the staff of The CTG:
On June 25 at 9:10 a.m., a man reported that a street sign on Old Justin Road was located too close to the road because his side mirror struck the sign's metal pole, causing damage to his vehicle.
On June 25 at 12:33 p.m., someone reported two vehicles going 100 mph side-by-side on Old Justin Road. "Caller says it was madness," the dispatcher noted.
On June 26 at 11:16 a.m., someone reported people fishing on a pond on Manor Drive "and they don't belong there." The responding officer found the subject in question had permission to fish there.
On June 28 at 2:25 p.m., a woman called police because her daughter drove down Crawford Road and hit a rock.
On July 1 at 9:45 p.m., a police officer was driving down Pegasus Ridge when a resident shot off fireworks. The officer stopped and issued a written warning.
On July 3 at 1:16 p.m., a caller reported seeing a horse with a leg stuck in barbed wire near the intersection of FM 407 and Hwy 377.
On July 7 at 9:57 a.m., a Robson Ranch resident stopped by the Argyle police station to report a dog that had chased her earlier in the week. She was referred to the Denton Police Department.
On July 8 at 1:24 p.m., a woman stopped by the Argyle police station "to have an officer speak with her son about rules."
On July 9 at 12:17 p.m., a caller reported four horses running down Sam Davis Road. The owner retrieved them and put them back in their pasture by 12:28 p.m.
On July 9 at 11 p.m., a resident reported a fire hydrant spewing water at the end of Keith Road.
On July 12 at 12:48 p.m., eight horses were seen running near FM 407. The horses were contained by 1 p.m.
On July 12 at 8:54 p.m., a caller reported a cow running loose near Mile Marker 79 on I-35W. The officer found the cow was inside the fence. The same thing happened on July 16 at 8:54 p.m. and on July 19 at 7:53 p.m., 8:18 p.m. and 8:25 p.m. It happened again on July 20 at 8:37 p.m. On the evening of July 22, multiple callers reported a wayward cow. This time, the responding officer confirmed the cow was indeed loose, but it ran from him into the thick brush.
On July 21 at 2:58 p.m., a driver on I-35W reported that someone in a blue Ford Taurus displayed a gun to the caller and was "driving crazy."
On July 22 at 9:45 a.m., a woman reported that as she ran in the Country Lakes neighborhood, a white Ford sedan seemed to be following her and she wasn't sure if it was an unmarked police car. The responding officer was not able to find the vehicle, but wrote that he doesn't think it was a law enforcement vehicle.
On July 24 at 8:56 a.m., a caller reported that they came to a property on FM 407 to feed the sheep "and all the animals are gone," and they "think someone stole them." Nine minutes later, the sheep were found in the corner of the property.
On July 25 at 8:15 p.m., an officer coaxed a loose cow back inside the fencing near I-35W and Crawford Road, where cattle kept escaping. Two black cows got loose later that night in the same location, and an officer got them back inside the fence. Two days later, a black cow got out again and an officer put it back up and tried to mend the fence.
On July 25 at 10:02 p.m., someone reported two black cows loose in the roadway at Old Justin Road near I-35W. An officer got the two cows back inside the fencing.
On July 26 at 4:23 p.m., traffic was snarled when a tractor-trailer stopped on Crawford Road near Hwy 377 because the driver feared his truck would be unable to make it across the railroad tracks. After blocking traffic for 20 minutes, the truck made it across the tracks with no damage.
On July 27 at 11:49 a.m., a motorist called police because a vehicle pulled out in front of them, and when the caller honked at the driver, the other driver flipped the caller off.
On July 28 at 1:58 p.m., residents on Nora Lane flagged down an officer and said that their vehicle has been egged and someone was placing roofing nails in front of their tires.
On July 30, a bull got loose near Sam Davis Road and I-35W through a 3-foot gap in the fence. It returned to pasture within a couple minutes.  There were similar incidents on Aug. 2, three times on Aug. 3, once on Aug. 6, once on Aug. 7 and once on Aug. 8. On Aug. 8, an officer spoke with the owner, who said he's going to get the fence fixed and stop the bull…
On Aug. 3 at 5 p.m., a resident on Big Sky Way reported that their car was covered with eggs, toilet paper and toothpaste.
On Aug. 4 at 1:02 a.m., an officer stopped to check on a running vehicle in the CVS parking lot at FM 407 and Hwy 377 and found two siblings "passed out" in the vehicle. The driver told the officer he felt too sleepy to drive, and his sister did not have a valid driver's license. The officer conducted a sobriety test on the driver, and there were no signs of intoxication.
On Aug. 3 at 6:31 p.m., a resident on South Gibbons Road called police to report that she heard children screaming. The responding officer found it was kids enjoying a birthday pool party nearby.
On Aug. 6 at 4:36 p.m., someone called police on an elderly lady driving slow on Hwy 377.  A "lollygagging" citation was not issued.
On Aug. 12 at 5:44 p.m., people visiting from Australia wanted to take photos with an Argyle police officer.  Rumor had it they were big fans of the police blotter.