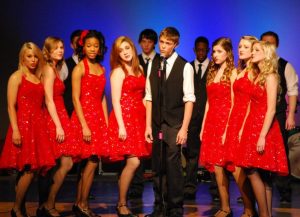 by Elizabeth Brannon
In the town of Flower Mound, young performing musicians number in the thousands. Huh? These young musicians are the distinguished group of students within the music programs in LISD.
Music programs in LISD are world class, and have been so, consistently, for years. The LISD music programs are distinguished by having excellent and passionate teachers, supportive administrative and community leaders, dedicated parents and talented students who are taught excellence and dedication to the craft.
The LISD music programs include band, orchestra, choir and elementary music.
Because excellence breeds excellence, LISD can attract and retain teachers with deep music and teaching skills that are the reason for the depth and consistency of musical success at LISD. Music education and enrichment is included for all elementary students K through 5th grade, then starting in 6th grade, students can elect to join their middle school band, choir, or orchestra programs to further engage in individual and ensemble participation through high school graduation.
The LISD music programs are known far beyond the boundaries of Flower Mound, the DFW area, and even beyond Texas.
Long before Amanda Drinkwater, LISD Director of Fine Arts, joined the LISD faculty in 2003, she attended a national percussion convention in New Orleans in 1992.  Attendees were buzzing about a scheduled marching percussion performance by Marcus High School. Ms. Drinkwater sat amidst an audience of thousands and witnessed an otherworldly performance by a group of high school students that put the LISD program 'on the map at a national level.
The Town of Flower Mound is currently exploring the creation of a Cultural Arts Master Plan, and to that end, hired a consultant to lead the research. The consultant has repeatedly said we don't know what we have here. He works with communities all over the USA and said the level of the music program at LISD would be the envy of communities everywhere. From those inside the LISD program, they all say it's a thrilling place for arts education. Because of repeated successes, it's easy to take things for granted and lose sight of the exceptional quality of our LISD music programs.
Students participating in these programs do so for a variety of reasons.  Some simply want to make music with friends, and others aspire to become professional musicians or music educators. Some don't practice much outside of school, others are focused and dedicated to their continued development every day.
There is a place for all students, and their responsibilities within their group are tailored for their skills and preferred contributions. It's a place for all to be encouraged. The music students end up with more than just musical literacy – music participation develops the brain and enhances learning in all other subjects. In addition to the life-long impact of an exemplary music education, LISD students earn numerous awards. This is only a snapshot… a sampling of their collective achievements and accomplishments:
1) LISD music programs were recognized once again in 2018 as 'Best Communities for Music Education Districts' by NAMM (National Association of Music Merchants). The award program recognizes outstanding efforts by teachers, administrators, parents, students and community leaders who have made music education part of a well-rounded education. Designations are made to districts and schools that demonstrate an exceptionally high commitment and access to music education. Lewisville ISD has received this distinction for a number of consecutive years.
2) LISD music programs (Band, Choir, Orchestra, and Elementary Music) have earned the following distinctions over the last 25 years:
* 11 Honor ensemble performances at the Texas Music Educators Association Convention
* 25 feature performances at the Midwest Band & Orchestra Clinic and the American Choral Directors Association Conventions
* 6 Finalist performances at the Bands of America Grand National Championships
* 6 UIL State Marching Band Contest championships
* Multiple ensembles selected as nationally renowned programs by the John Philip Sousa Foundation
* Most notably, LISD band, choir and orchestra programs have repeatedly entered numerous ensembles into the UIL Concert & Sight Reading Contests year after year with a vast majority earning Sweepstakes ratings annually
The LISD program consists of multiple ensembles that are fun and create artistic musical opportunities for students as well as audiences. These kinds of programs can't easily be replicated in other school districts, but somehow, excellence is repeated within this school district year after year.
For the LISD music programs and those who engage in them, it's clear success is a way of  life for them….and one that the residents of Flower Mound can embrace and enjoy by attending concerts, exhibitions and competitions.
Explore the musical events from LISD and get to know some of our music programs and performing artists. It's one of the many gifts the LISD schools give to our community!
*Steve Tobak
Elizabeth Brannon serves on the Flower Mound Cultural Arts Commission.