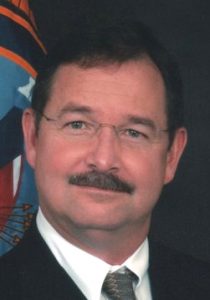 On behalf of the Police Department I would like to thank Public Works Director Charles "Charlie" Wright for his years of service to the Town of Double Oak.  As of August 22, 2018 Charlie has accepted a position as a building inspector for another North Texas Municipality.
Since being hired in 2003 Charlie has worn an amazing "number of hats" including building inspector, code enforcement, zoning regulation expert, facilities maintenance director, point of contact for numerous road and drainage projects, contract monitor for the Town and ombudsman for every odd request the Town might be presented.  In his spare time Charlie also served as a volunteer firefighter/EMT, and expert bee and snake removal resource (on numerous occasions Charlie has removed snakes from residences and swarming bees from Town hall).
I've listened as Charlie expertly spoke to the merits of various roadway surface choices, concrete culverts, well drilling, septic tank maintenance, and roof repair and helped coordinate a wide variety of residential and business construction and improvement projects.  Charlie has attended over 300 council meetings, zoning meetings and roadway project meet and greets.  He has always been available for community gatherings or critical weather events.  I've watched as Charlie patiently explain Town zoning regulations to hundreds of people over the past nine years.
Charlie has served in a very demanding position where customer satisfaction is often difficult to achieve.  Texans have an independent spirit and it is understood that people don't like being regulated by the government.  That being said, code enforcement is a critical function for any municipality as it supports quality of life issues for all residents and not just the one resident who chooses non-compliance.
I've executed search warrants with Charlie on homes that were literally posing health risks for everyone in Town.  I've seen residences with uncut lawns, rodents (living and dead) inside their home and roaming their property, non-maintenance of swimming pools and the subsequent explosion of disease carrying insects, rotted buildings that harbor termites and even small families of coyotes.  These can be tough issues to tackle and oftentimes require years of patient case-building and appearances in court.  Charlie handled his duties with aplomb, balance and an efficacy developed over fifteen years of dedicated service to our Town.
Charles Wright and his institutional knowledge is going to be missed by our Town.  Thank you for your service Charlie!
Recent Police Calls
07-21-18 – Disturbance – Double Oak – Officers responded to a family disturbance between a mother and a daughter.  No reported injuries and disturbance was quelled when one party left the scene.
07-23-18 – Criminal Mischief – Double Oak – A resident reported that his mailbox had been struck, by an unknown motorist, causing approximately $500 dollars' worth of damage.
07-23-18 – Possession of Drug Paraphernalia – Double Oak – During the conduct of a traffic stop the officer noticed the odor of marijuana.  A search of the vehicle was conducted and suspected drug paraphernalia and possible narcotics were found.  A citation to appear in court was issued for the suspected paraphernalia and the suspected narcotics have been sent to a State lab for analysis.
07-16-18 – Theft – Double Oak – A resident report the theft of $1,500 dollars in currency from their home.  The resident was able to provide follow-up information regarding possible suspects who had access to their house.
07-28-18 – Possession of Drug Paraphernalia – Double Oak – During the conduct of a traffic stop the officer noted the odor of marijuana.  During a subsequent search suspected drug paraphernalia and a small amount of marijuana was found.  The suspect was cited for suspected drug paraphernalia and multiple traffic infractions.
08-02-18 – Fraud – Double Oak – A resident received payment, by check, for an item they had for sell online.  The buyer sent a check to the resident that was in excess for the amount of the item purchased.  The buyer wanted the resident to cash the check and send the cash to them (presumably along with the item).  It was clear from the "buyers" behavior they were attempting to have a forged or stolen financial instrument cashed.
08-02-18 – Mail Fraud – Double Oak – A resident received a letter, purported to be from the Internal Revenue Service, demanding $5,000 dollars be sent to an address in Houston.
08-06-18 – Arrest – Double Oak – During the conduct of a traffic stop the investigating officer determined that the motorist's driver's license was suspended and that they were wanted out of Denton County for driving on a suspended license.  Motorist, a 46-year-old female, was taken into custody and transported to Denton County Jail.
08-07-18 – Assault by Threat – Double Oak – A resident reported that a known adult male had been threatening to harm him.
08-07-18 – Found Property – Double Oak – A resident, who was out for a walk, located a wallet with cash and a debit card on the side of the road.  Further investigation by officers determined that the debit card had been stolen in Argyle and apparently thrown on the side of the road by an unknown suspect.  Property has been returned to its rightful owners.
08-12-18 – Criminal Mischief – Double Oak – A known person kicked in the door of a residence causing property damage.
08-14-18 – Disturbance – Double Oak – Argument between a parent and an adult child.
08-18-18 – Burglary of A Vehicle – Double Oak – On Friday August 17, 2018 at approximately 7:46 p.m. officers with the Double Oak Police Department responded to a Burglary of a Motor Vehicle in the 3900 blk. of Chapel Ct.  A visitor to Double Oak had parked his pickup truck in a driveway on Chapel Ct.  While the visitor was speaking with the homeowner an unknown white male, wearing a grey shirt and blue jeans, broke the driver's side window of the complainant's truck, entered the passenger compartment, opened the center console and removed $2,500 dollars.  The white male suspect returned to a black passenger car and fled northbound on Chinn Chapel Rd.  According to a witness the suspect vehicle was being driven by a black male with an unknown clothing description.  Investigating officers believe that the complainant had been followed to Double Oak from a bank in Irving.  The victim had gone to the bank to withdraw currency for the purchase of a trailer in Double Oak.  He exited the bank with a bank bag, entered his vehicle, and traveled directly to Double Oak.  Once in Double Oak he placed the bank bag in the center console of the vehicle and locked the vehicle doors. Persons with information about this offense are asked to contact Investigator Murphy at (972) 355-5995.