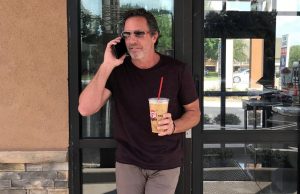 "It's a good day to have a good day," is the motto of 151 Coffee and its owner, serial entrepreneur Mark Wattles. He wants friends, employees and customers to have a good day with each visit to the recently-opened drive-thru coffee café on FM 2499, just south of FM 1171.
The vision for this current start-up business came in 2016, following about a decade of "semi-retirement."
"It's been 10 years since I've gone out and done a start-up like this," said Wattles during a February 2017 Flower Mound Planning and Zoning meeting. "The revenue forecast is $700,000– with 500 drinks served per day– and it's funded entirely by myself; so, it won't be a failure, because we won't run out of money."
While his statement might seem, uh, exaggerated– coming from someone else– coming from Wattles, it's a sure bet. The man knows what it takes to turn an idea into a successful business.
Back in 1988, when he was 28, he founded and opened the first Hollywood Video store in Portland, Oregon. Between 1989 to 1992, he opened 13 more stores and, after its Initial Public Offering (IPO) in 1993, it grew to more than 1,000 stores with 32,000 employees nationwide.
Wattles served as founder, chairman and chief executive officer (CEO) of Hollywood Video– no franchises involved– which grew to $1 billion in revenue in five years: "I believe that's the fastest-ever to get to $1 billion for any retail business," he said with pride.
He sold the company for approximately $1.25 billion in 2005, the same year he founded Wattles Capital Management, LLC, serving as its chairman and CEO.
A decade after starting Hollywood Video, Wattles co-founded HomeAdvisor.com; then sold it to InterActive Corporation in 2004.
He partnered with three other investors in 2001 to create the Firebirds Wood Fired Grill chain of 49 full-service restaurants across 19 states. Those are still serving steaks, seafood and other entrees from wood-fired grills with select wines and specialty cocktails.
When asked about his personal entrepreneurial genesis, Wattles said he didn't have to look far.
"No 'light-bulb' turned on; my dad was ambitious," he said with a smile. "He was the youngest of 12 children and he ended his public education when he was 13. He didn't attend high school, because he was on his own and needed to get on with his life. So, instead, he got his GED, went to UCLA and got an Associate Degree in Computers."
The family of eight– Wattles being the eldest of six children, followed the elder Wattles' around the country.
"We moved about 10- or 11-times when I was growing up," he said, which included graduating from J.J. Pearce High School in Richardson.
Wattles' first official job was at 15-years-old at Wendy's. The next job came from a teacher recommendation– when he was 16-and-a-half– for a position in a Bank of America program.
He added that he used the salary he made at the bank to finance his real teenage (and continuing) passion and first entrepreneurial business; buying-fixing-flipping muscle cars.
Wattles attended Brigham Young University for one semester, before deciding a classroom wasn't needed to get him where he wanted to go.
"My father was strict and believed in [personal] discipline, but I always knew I had my parents' support," said Wattles. "I remember during a long car trip, he told me that if I ever felt I didn't need to get a college degree, it would be my decision to make. Having his support to try– and maybe fail– gave me great self-confidence. I knew I could always go home and sleep in the basement if I needed to."
Wattles and his family have built– and still own– several family homes: including one in Oregon; Punta Mita, Mexico; and North Texas in the Euless area.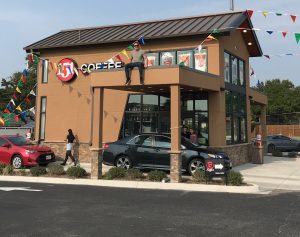 Until this June 14, he also owned a more than 49,000-square-feet mega-mansion on 32-acres of farmland wedged between West Linn and Wilsonville, Oregon, with 2,700-feet of Willamette River water frontage. Although construction began in 1996, environmental concerns and legal disputes halted completion of the Portland-area home for the past 20 years. The infamous abandoned residence was even featured on YouTube. The Clackamas County Assessor's Office values the unfinished property at $6.6 million. It was sold at auction this June to the highest of 10 bidders; a couple from Washington State who plan to complete and live in it as a family home– the original intention.
As a father of seven– and grandfather to eight– Wattles, 58, wasn't exactly idle during his decade of "semi-retirement."
"About five years ago, I started getting bored," Wattles confessed. "So, I started doing research, which took about a year. As I was expanding Hollywood Video and Howard Schultz was growing Starbucks, our teams would exchange business expansion ideas."
The Starbucks' trend, from being a calm gathering-space to now attracting the grab-and-go coffee-drinking public, caught Wattles' attention. His research discovered that throughout the northwest there were four to five drive-up kiosk-style coffee businesses, with several stores each, that were doing well financially.
"They were the 'proof of the concept' that small drive-thrus can succeed, but they are only local; not national," he said. With Wattles expertise in successful business expansion, he'd found his business niche-in-need.
Wattles said he's not inventing anything new; just recreating a high-quality building version of what worked back in the beginning. He was fortunate to already know a premium-level coffee bean roaster in Washington State who, "will be able to fulfill the demand of store-growth for the foreseeable future."
What followed during the next couple of years was, "lots of tasting; what went with what and finding the right vendors." He was still ready to take a chance starting a new venture; but, with caution based on experience.
He said his goal is: "To serve as high a quality cup of coffee as quickly as possible (in less than 90-seconds) from a quality building, like you'd find in a high-end coffee café."
Unlike Hollywood Video's technology-limiting shelf-life, 151 Coffee's future will be secure for as long as people drink coffee and want to grab a cup in a hurry; whether their car runs on gas, electricity or is self-driving.
"Yes, of course the goal is to make money with a successful business," said Wattles. "Did I feel responsible for a person who left a big corporate job to join Hollywood Video– no; it was their decision, their gamble– and many of them made a lot of money, too, before technology caught up and it stopped. And, yes, it's hard when a business finally ends or doesn't succeed in the first place, but that's business. That is, unless there's deception involved; but that's not business– that's something else altogether."
Perhaps it's his "old age," but Wattles' search for a new venture included a mentoring opportunity with the business for young adults to become entrepreneurs themselves.
"I want to create an opportunity for young adults– post-high school or college students or those who may not have a degree– to develop their skills, pursue their ambitions (whether it's with 151 Coffee, or not) and enjoy going to work, while they're still young" said Wattles. "Because our products– expresso, latte, Americanos and cold-brew coffee– are high-energy, so is the environment– the music (playlists are put together by the kids) and the look are also high-energy."
Wattles' son, Nick (his oldest child, with four sisters and two stepsisters) is an artist and he created the iconic personality wall art in the "java joint."
"I've learned that 'people-people' will make the difference in how customers view their experience, if there are equal products," said Wattles. "If you ask them to compare identical meals, for instance– and then ask which meal they preferred– they will always pick the one where they were greeted with a friendly welcome, served by a friendly and attentive person and thanked for coming, with a request that they visit again."
Wattles' personal goal for 151 Coffee is, of course, to be successful, but not only financially. He wants to help young adults to become successful entrepreneurs themselves; to learn how to assess situations and people so they can advance to their full potential.
"I may hire someone to start as a barista, because I see that natural 'people-personality,' he said. "And, once that's mastered, I'll move them up to be a shift leader, then a store manager and, if they're interested, they can buy a 151 Coffee franchise– unlike Hollywood Video, which had no franchises– and/or then to be a state or regional manager and then reach the top corporate level."
The Flower Mound location was intended to be the first 151 Coffee location to open, but paperwork complications meant the North Richland Hills location opened first. Now that both stores are staffed and running smoothly, Wattles plans to expand to three other North Texas locations during the first half of 2019.
"If you want to meet an old entrepreneur doing the same thing he did in his 20's … drop by," Wattles said with a laugh.