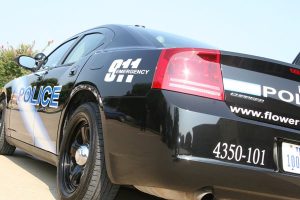 The Flower Mound Police Department is investigating the theft of three vehicles in one night this week.
The three vehicles were reported stolen during Tuesday night or Wednesday morning, according to FMPD Capt. Shane Jennings, a department spokesman. A Ford Mustang was reported taken from the 2500 block of Lakeside Parkway, a GMC Sierra was stolen from near the Courtyard hotel and a Ford F-350 was stolen from the 4200 block of Spring Meadow Lane.
There was another report of an attempted vehicle theft in the 4000 block of South Broadway Avenue during the same timeframe, but it was not taken, Jennings said.
Jim Chism, a Flower Mound resident of more than 25 years, said he had never had a problem until his truck was stolen Wednesday morning. He said a neighbor's surveillance video caught the theft on tape.
Chism said that about 2:30 a.m. Wednesday, a truck drove by his house and dropped a white man off. The man, described as having short hair and tattoos on both arms, walked down the sidewalk and went over to Chism's pickup, which was locked and the alarm was set. The man quickly broke into the pickup and drove away, followed by the truck that had dropped him off.
The thefts were still under investigation as of Friday afternoon, Jennings said. Police did not have a suspect and are unable to say if the thefts are related.
If you have any information about any of these thefts, contact FMPD at 972-539-0525.