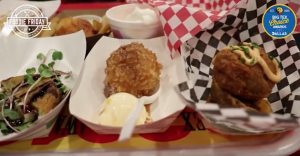 By Jay Marks
Every summer I look forward with great anticipation to see what nutty, unique, one-of-a-kind creations people are going to enter into the Big Tex Choice Awards for the Texas State Fair. This year, we got to experience the 31 semi-finalists first-hand at the 2018 Big Tex Choice Awards held Sunday, August 26. There was everything from a Cotton Candy Taco to a Twang-kie to a Deep Fried Shepherd's Pie.
The three big winners from the awards were: Most Creative – Cotton Candy Taco; Best Taste (Sweet) – Fried Arroz Con Leche; and Best Taste (Savory) – Fernie's Hoppin' John Cake with Jackpot Sauce.
We had a chance to chat with the creators of the Cotton Candy Taco, father-and-son team Justin and Rudy Martinez, who told us they've been competing in the Big Tex Awards for years and have won 16 times! Their Cotton Candy Taco that won this year is made with a graham cracker waffle cone batt pressed into a crunchy taco shell shape and filled with chocolate, toasted marshmallow, and organic cane sugar cotton candy. Then it's topped off with chocolate cookie crumbles and two chocolate cream-covered biscuit sticks with marshmallows.
A few of our other favorite finalists who didn't win were the Orange You Glad We Fried It? which are chiffon orange cake empanadas filled with orange preserves and the Texas Fried Hill Country made with fried mozzarella and juicy green tomatoes.
We cannot wait to head to the State Fair this year to eat all these yummy creations again! There's something about being at the Fair that makes eating these even more fun!
*For more information about the Big Tex Choice Awards and the Texas State Fair, visit BigTex.com.