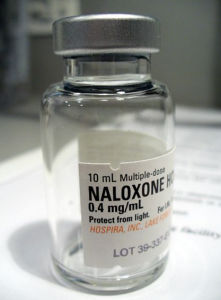 Two local police departments have begun carrying Narcan, an intranasal medication that can treat opioid overdoses in emergency situations.
Dr. Justin Northeim, medical director for the Argyle Fire District, said Naloxone — brand name Narcan — can help save the life of someone who overdoses on opioids and a police officer who comes into contact with the drugs.
Overdoses are now the leading cause of death for Americans under the age of 50, according to The New York Times. Northeim said the growing issue is caused by people getting addicted to opioid painkillers and turning to cheaper, illegal drugs like heroin. Some people mix these drugs, such as Fentanyl, to create very potent substances.
Northeim said that on a typical day of work, officers may unknowingly touch a very small amount of these opioids — such as while conducting a vehicle search, for example — and be affected by the drugs. Now, if such an instance were to occur, the officer would be able to self-administer the intranasal Narcan, which will reverse the effect of the opioids.
EMS paramedics already carry Narcan, but in the case of an officer reaching an overdose patient first, the officer will be able to provide Narcan treatment to the patient.
Northeim said Argyle and Bartonville are joining the Carrollton Police Department as the few North Texas police agencies carrying Narcan — of which he is aware — but other DFW departments are considering it and others around the country have also begun carrying it.