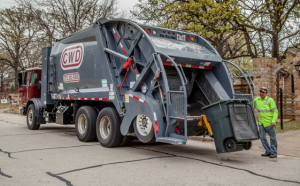 Weekly trash, recycling and yard waste collection services in Highland Village will change next week.
Currently, the services for Highland Village residents are provided by Waste Management, but the city's contract is set to expire this Friday, so earlier this year city staff reviewed three proposals for a new trash service contract, according to the city of Highland Village.
Staff recommended accepting the proposal from Community Waste Disposal, because its proposed monthly fee of $16.24 was the lowest of the three proposals and it would provide enhanced service over the current contract, according to the city. City Council approved the change, which will go into effect on Monday.
CWD's contract includes continuation of 10 bags per week of garbage collected on a weekly basis, increase to 95 gallon recycling cart, weekly compost collection, collection of large brush and bulk items twice a month, continuation of the Household Hazardous Waste at the curb program, and ability for residents to deliver material to CWD's facility at no additional charge.
Some adjustments have been made to some of the collection routes, according to the city. You can determine your collection day by entering your address on this interactive map, or you can view this PDF map and zoom in to determine your collection day.
Residents can contact Community Waste Disposal at 972-392-9300 for questions or more information.