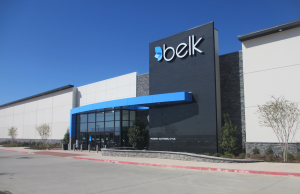 The Flower Mound Belk store is participating in the Belk Back-to-School Charity Sale on Saturday.
The sale is a private ticketed shopping event from 6-10 a.m. Saturday at several participating DFW Belk stores, including the one in Flower Mound, 5801 Long Prairie Road. The sale offers customers exclusive discounts on designer brands while also supporting local schools and charities, according to a Belk news release.
The local charities partnering with the Flower Mound store are the Flower Mound Police Academy Alumni Association, P.E.O. Chapter HO and 30 Walk.
To access the private shopping event, customers must purchase a $5 ticket before Saturday, and that $5 will be deducted from their total purchase on Saturday. Tickets can be obtained from partnering charities and schools, and 100 percent of ticket sale proceeds will stay with that organization, the news release said. Tickets can also be bought at the Belk store, and those donations will be divided among the store's partner charities. The first 100 customers on Saturday morning will receive a Belk gift card from $5-$100.
Since 2012, the Belk Charity Sale has contributed more than $50 million in donations to more than 6,000 nonprofits in the south.