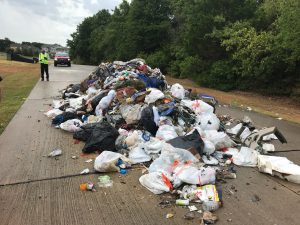 A truckload of garbage had to be dumped on a Flower Mound residential street Friday because someone put pool chemicals in their trash, according to the town of Flower Mound.
Pool chemicals are considered hazardous waste, extremely combustible, and there's a special way to safely dispose of them. When someone included them with their normal trash, they started a fire in a Republic Services garbage truck Friday morning that had to be put out, according to social media posts by the town of Flower Mound.
Flower Mound's police and fire departments responded to the incident, as did environmental services to ensure the chemicals did not go into the storm sewer. After the fire was extinguished, the entire truckload of contaminated garbage had to be hauled off separately.
Flower Mound residents can safely dispose of their pool chemicals and other household hazardous waste and e-waste by scheduling a pick-up with Republic Services at 469-451-3713.