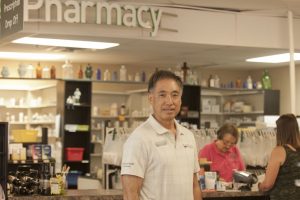 After graduating from the Pharmacy School at the University of Texas-Austin, Dennis Song, Registered Pharmacist and longtime owner of Flower Mound Pharmacy and Herbal Alternatives, spent the first 17 years of his professional life happily managing pharmacies for the Tom Thumb grocery chain in the Mid-Cities of Dallas-Fort Worth.
Then the pharmacy at the Lewisville Medical Center lost its lease, moved to Flower Mound and was for sale.
"It is not a foregone conclusion that a new pharmacy will succeed," said Song. "Prescription customers dig in their heels when faced with change."
A friend urged him to invest. This was an opportunity to explore other aspects of healthcare delivery. Song was interested, but settled and reticent.
"A pharmacy purchase is fairly simple," he said, "You buy the pharmaceutical inventory and the prescription files. The store in question had one big plus, the deal included the all-important fixtures and a new lease."
That was 20 years ago.
The original front and center location at the red brick Atrium Mall on Cross Timbers Road in Flower Mound hasn't changed, but the former Eckerd Drugstore evolved into a "community pharmacy."
Chain pharmacies perfected patient access to conventional doses of big pharmaceutical company products. Custom-adjusted medicines which, in the business, are called compounds, are made-to-order by a community pharmacist. Today, Flower Mound Pharmacy and Herbal Alternatives is the only one in town.
"You would be surprised at how many people worry about using their conventional prescriptions," Song said. "They often come in, explain their illness and treatment– as they understand things– and wonder if there is an alternative solution."
The community pharmacist is concerned with patient outcomes, as opposed to the chain pharmacy's concern with product distributions. The community pharmacist contacts the patient's healthcare provider to discuss the treatment, obtain records and propose other or supplementary solutions.
"We have a local network of supporting physicians like Jocelyn Dunham, the Bridlewood Family Healthcare Group, Rachel Osborne and pediatric Kids First, among others," said Song. "The big question is first, 'Do your medications work?'  The second question, 'What are you doing to enhance the outcome of your prescription use?'"
Diabetes patients, for example, often need to make lifestyle changes. This may include a new and long-term approach to diet and exercise. Flower Mound Pharmacy employs a staff nutritionist and a lifestyle educator, plus makes referrals for services, which will boost the effectiveness of the pharmaceuticals prescribed by the physician.
"Our weight management education consists of eight- to 12-weeks of private consultations," said Song. "Over the past eight years, 700 patients have used it with success. If you want to enroll in weight management at the YMCA, we can point you in the right direction. We want to be known as the source for pharmacy, health and wellness products and services."
Does all this sound pricey?
"You'd be surprised at how competitive a community pharmacy is," he said. "Pharmaceutical pricing is deceptive. The community pharmacy charges a fee-based, flat-rate for its products, whereas a chain pharmacy charges what the market will bear."
Popular medicines can cost substantially more at a "discount" pharmacy. It pays to shop around!
"In one surprising instance some time ago our price on a certain product was $200 less than the local big box store pharmacy," said Song.
Medicines either kill biological disease organisms or work to prevent complications from physical malfunctions that are not disease organisms. Antibiotics aim to destroy certain organisms. Diuretics aim to prevent water accumulation in body tissues.
"Many medicines also cause nutrient depletions, which should be addressed, particularly if the product is going to be used long-term," Song said, adding that a community pharmacist will research the nutrition issues connected with specific medicinal products.
What are herbals and alternatives?
In a world where few of us grow our own vegetables or raise livestock, collect eggs and milk daily from our own sources, vitamin supplements and plants (herbs) and specialty foods play roles in healing.
Vitamin pills and capsules are commercially-produced micronutrients the body uses in tiny amounts daily to help metabolism and processes that release energy to maintain vitality. The FDA regulates vitamin production like drugs.
Herbs, on the other hand are plants, yes; grown in the ground somewhere and transformed by nutraceutical manufacturers who sell them to practitioners to dispense to patients in connection with counseling. They are regulated by the Agriculture Department.
"Prices vary considerably on supplements," advised Song.
The issue is purity of the product. They should have been independently tested. That means the company that sells the products does not own the testing company. This is a common conflict of interest, which affects the price of one product versus another.
"Commercial medicines consist of fairly simple molecules of substances that produce certain effects, when introduced into a body," said Song. "Herbs are composed of complex molecules that cannot be easily separated or regulated."
For instance, did your mother ever have you sip some ginger ale when you had an upset stomach? Ginger has an illustrious herbal history.
Or, have you ever had a cup of chamomile tea before bed? Ah, another herb with a long history in Mother Nature's medicine cabinet.
A nutritionist would enquire about your body's reaction to ragweed pollen, before suggesting chamomile use. This safeguard is not available with most over-the-counter herbal sales.
Specialty foods include items like lactose-free milk substitutes and gluten-free flour products.
So, we might wonder how Dennis Song come to be a community professional for the past 37 years in southern Denton County?
"My grandparents– on both sides– immigrated to California from Korea back in the 1940s," he said. "They were rice farmers. The Songs lived and worked in the Sacramento area."
One grandpa invented a gizmo that greatly improved rice field irrigation. The device led the family right into the ultimate version of the American Dream, fame and financial success.
"My uncle owned a pharmacy in Los Angeles," remembers Song. "I loved the place. From the time I was middle school-aged, I knew I wanted to be a pharmacist, too."
Eventually, Song's dad became an aerospace engineer at Vought Aviation in Grand Prairie.
"I got to Texas when I was three," said Song. "The Mid-Cities is where my sister and I grew up."
Fifteen years after bidding the Golden State farewell, he graduated from Grand Prairie High School and spent the next two years at UT Arlington. Three years after that, he graduated from the School of Pharmacy at UT Austin; and, the past 20 years has been local history.
"You know, early prevention of most diseases and disorders is vital for a happy life," he advised. "It's the 401k of health."