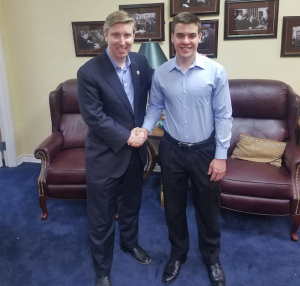 State Representative Tan Parker selected David Smith, of Flower Mound, as the House District 63 nominee for the Texas Armed Services Scholarship Program to assist him in furthering his education at Texas A&M University in College Station, according to a news release from Parker's office.
The TASSP, a partnership effort between the Texas Legislature and the Texas Higher Education Coordinating Board, is a scholarship program to support students who participate in Reserve Officers' Training Corps programs at civilian colleges. To be eligible, a student must meet specific academic criteria and enter into an agreement requiring a four-year commitment to serve in the armed forces upon completing their education, according to the news release.
A recent graduate of John H. Guyer High School, David Smith has chosen to join the Air Force upon the completion of his undergraduate studies.
"I hope to give back to the country that has given so many opportunities to me along with my family," Smith said.
Parker, who lives in Flower Mound and represents the area, said the scholarship is "extremely competitive," and Smith reflects the "determination and passion for service" that his office sought in a nominee.
"I am confident that his outstanding academic and JROTC achievements, dedication to community service, as well as his involvement in Boy Scouts, in which he attained the rank of Eagle Scout, have equipped him with the critical and necessary skills to be a tremendous leader," Parker said. "David clearly has a bright future, and it is an honor to award him the Texas Armed Services Scholarship as he begins this next chapter in his life."