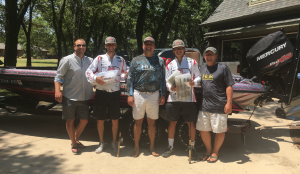 The Denton County Bass Club presented a donation of fishing tackle to the up-and-coming Argyle High School BASS fishing team last week.
Near the beginning of the school year, the local bass club typically presents a tackle donation to a Denton ISD high school BASS fishing team, said Mike Zierath, DCBC's youth and conservation director. This summer, the club chose to make its donation to the Argyle High School BASS team.
"We want to make sure they understand they have our support," Zierath said. "They have opportunities we didn't have, and we want to give back. This stuff is expensive."
Zierath and Justin Johns of the DCBC presented a donation of fishing tackle valued around $1,500 to Argyle HS seniors Braxton Cullum and Christian Burkhart, the president and secretary of the Argyle HS BASS fishing team, respectively. Braxton's father, Reed Cullum, is the team's adviser. Braxton and Christian were appreciative of the donation.
"This is a great start," Braxton said.
The Argyle team was created just two years ago, but already had about 30 members last year and is still growing, Braxton said.
"I think more people will sign up this year," he said. "Other sports usually take a higher priority but I think we're getting more support and recognition each year."
The DCBC will also be helping out the Argyle BASS team by providing boat captains for tournaments when needed.