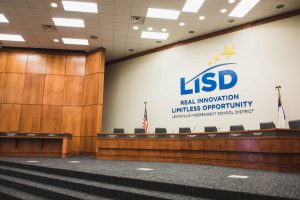 Students at Lewisville ISD high schools are aiming to make their schools kinder places this school year.
Hundreds of students from all five of Lewisville ISD high schools will join together on Aug. 7 for the district's inaugural Kindness Convocation.
The free event will feature Houston Kraft as the keynote speaker, and the attending students — who will be clad in the color orange — will be dubbed "Kindness Ambassadors" for the upcoming school year, according to a school district news release. The project is a student-driven effort to make their schools and social media kinder places.
"I am in awe by the amount of passion and leadership our students have exhibited in planning the Kindness Convocation," said Andy Plunkett, LISD Assistant Chief of Schools. "They want to change the current trends on social media and perception about their generation. Our students are ready to stand up for what is right, make a difference in their schools and ensure everyone feels included. They are ready to make kindness normal."
One of the first acts of business for the students was to book Kraft, the co-founder of CharacterStrong – trainings and curriculums that create more compassionate cultures in schools and communities. He delivers messages about character, leadership, compassion and kindness.
"Houston Kraft says, 'Being nice is reactive; being kind is proactive," Plunkett said. "While it can be difficult, we need more kindness in our schools, and we need to make it the students' 'default setting.'"
In addition to Kraft, the convocation will feature appearances by LISD Superintendent Dr. Kevin Rogers, NBC Channel 5 anchor Kris Gutierrez and DFW Pro DJs. Matt Stamm of the Frisco RoughRiders will serve as master of ceremonies. All students will receive an event T-shirt and ID lanyard, as well as be treated to a barbecue dinner prior to the event. Sponsors include TIAA, Mixed Media Creations, Jackson Construction and PointBank.
"I'm extremely excited for the Kindness Convocation," Marcus High School Senior Class President Brooke Faulkner said. "I believe it will be one of the highlights of the summer. It's so great that so many people across Lewisville ISD are committed to bringing kindness into everything we do."
The Colony High School Senior Class President Gabriela Martinez said she is proud of all five high schools for coming together for the event.
"I think it's something very important that we're doing and it means a lot more knowing how much effort is being put into it," Martinez said. "I know we all have the same goal, which is to spread awareness of how being kind can affect someone in so many positive ways."
The convocation will also be a warm-up for "Kindness Week" set for Aug. 20-24 at all LISD high schools. The week will be led by the Kindness Ambassadors and feature themes and social media challenges each day.