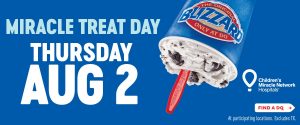 Dairy Queen will be donating part of its Blizzard sales on Thursday to children's hospitals.
Thursday is Miracle Treat Day at all participating Dairy Queen locations, during which the fast food chain will donate at least $1 from all of its Blizzard treat sales to local children's hospitals, according to a DQ promotional email.
Flower Mound is home to two Dairy Queen locations: 2000 Long Prairie Road in south Flower Mound and 1909 Justin Road on the border of Flower Mound and Highland Village. Click here to find the location nearest you.
Since 1984, Dairy Queen and Children's Miracle Network Hospitals have partnered to provide life-saving treatments to kids from across the U.S. and Canada, raising more than $135 million through donations from customers and franchisees, according to Dairy Queen.
For more than 10 years, Dairy Queen has put on Miracle Treat Day, which raised more than $4 million for Children's Miracle Network Hospitals across North America.
Click here for more information about Miracle Treat Day.