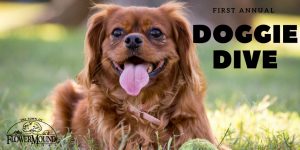 The town of Flower Mound announced over the weekend that it will host its first Doggie Dive later this year.
The event will be held at the Community Activity Center's outdoor water park on Sept. 15, according to the town news release. During the Doggie Dive, dogs can compete for best trick, farthest Frisbee jump, fastest canine (swimming the length of the pool) and best costume.
There will be two time slots that day: 1-2:30 p.m. for dogs under 30 pounds (and mixed-size doggie families) and 3-4:30 p.m. for dogs over 30 pounds. Pre-registration is required and limited to the first 150 participants per time slot. Registration is $5 for CAC members and $6 for non-members.
The town asks that participants arrive 15 minutes early so staff can verify the dogs' rabies vaccination is current. The town also hopes the canines can lend a paw to the cats at the Flower Mound Adoption Center by bringing a bag of kitty litter to donate.
For safety reasons, do not bring treats or toys; toys will be provided by the Town. Dogs are required to be on leashes before they enter the pool enclosure. For complete rules and registration, click here.