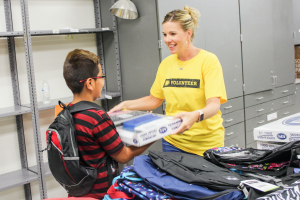 The Lewisville ISD will hold its annual Back-to-School Fair on Saturday.
Thanks to donations from people and organizations in the community, the district will provide backpacks, supplies, vaccines, eye exams, physicals, shoes, haircuts and more to more than 4,000 students from 9 a.m. to 2 p.m. at Lewisville High School, 1098 West Main St., according to a district news release.
The district is seeking volunteers for the clean-up crew to help out from 2-5 p.m. Saturday.
For more information about the fair, click here or email [email protected].