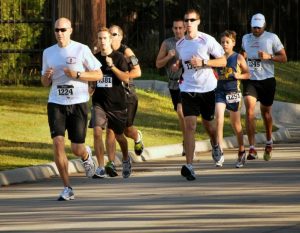 Lantana's annual charity race is seeking runners, sponsors and volunteers.
The Lantana Community Association's ninth Run Lantana 5K and 10K is scheduled for the morning of Sept. 15 and will benefit Ranch Hand Rescue, an Argyle nonprofit that rescues and rehabilitate abused and neglected farm animals. Ranch Hand Rescue integrates the animals into its Equine and Animal Assisted Therapy Counseling programs that serve victims of child and sexual abuse.
Run Lantana raised more than $12,000 for Ranch Hand Rescue last year, according to the Lantana Community Association, and it has raised more than $60,000 for local charities.
The family-friendly race will tour the rolling hills of the Lantana hike and back trail, as well as surrounding neighborhoods and schools. Registration fees for the 5K are currently $30 for adults and $20 for kids 12 and under. Fees for the 10K are $40 for adults and $30 for kids 12 and under. However, a special registration price of $20 per person (adults and children) for both races will be available Saturday through Tuesday. The prices then return to their current cost on Aug. 1, and then they increase by another $5 after Aug. 31.
Organizers are lining up sponsors and volunteers for the race, according to Ashtin Slovak, Lantana lifestyle manager.
"We love for local organizations as well as local and resident-owned businesses to get involved, so if you might be interested please contact me for more details," Slovak said in an email. Contact Slovak via email at [email protected].
For more information or to register, click here.