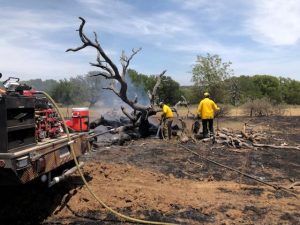 Several local firefighters are currently deployed to the Texas Hill Country to help with the containment of a large wildfire.
Five members of the Flower Mound Fire Department deployed Saturday morning to the Harmon Road Fire in Coryell County, west of Waco .hey are part of the Texas Intrastate Fire Mutual Aid System Strike Team 150, along with members of the Double Oak Volunteer Fire Department, Lewisville Fire Department and Nacogdoches Fire Department.
Flower Mound Fire Department Spokesman Brandon Barth said Tuesday that Strike Team 150 has been reinforcing the containment lines around the fire for the past couple days. Nine different types of firefighting aircraft have been used to douse the fire, which as of Tuesday morning, was nearly 2,900 acres large and was 60 percent contained.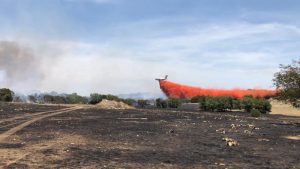 "There is still some fire activity that they are working to extinguish before the next forecasted wind shift in a few days," Barth said.
TIFMAS is a state program that utilizes local firefighters from around the state to provide aid when a fire — or other natural disaster, such as a hurricane — is too much for the local authorities. The state reimburses the town for the deployed firefighters' overtime, as well as overtime required to cover their shifts.