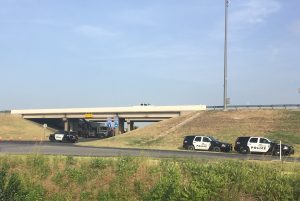 A FedEx tractor-trailer crashed Wednesday morning off I-35W in Argyle, snarling traffic for many morning commuters.
At 6:43 a.m., the tractor-trailer was southbound on I-35W when the driver moved from the right to left lane and struck the inside guardrail, according to a Denton Police Department news release. The truck drove through the center median until it got to the Crawford Road overpass and fell, crashing on the embankment on the south side of Crawford.
The driver was extricated from the truck by the Argyle and Denton fire departments and transported by ambulance to a local ambulance with non-life-threatening injuries.
The wreckage blocked one lane each of northbound and southbound I-35W for hours, according to police, and both directions of Crawford Road were shut down at the I-35W interchange until the afternoon.