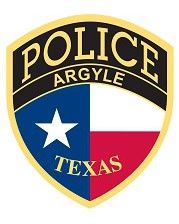 The following is a summary of incident reports recently made to the Argyle Police Department as compiled by the staff of The CTG:
On May 30 at 1:55 a.m., a police officer checked on a vehicle parked in the CVS parking lot and found a man and a women in the backseat. The officer advised them to take their meeting elsewhere.
On May 30 at 12:37 p.m., a resident on Old Justin Road reported that around 4:30 that morning, they spotted a man in their yard running away. They later found their shed had been ransacked and at least one drill was missing.
On May 31 at 12:07 a.m., someone called police about a suspicious Ford Mustang at FM 407 and Hwy 377. The officer observed the Mustang was stopped at a red light, and it moved when the light turned green.
On June 3 at 9:52 p.m., a resident called police because her garage door closed without her pushing the button. Police checked the scene but were unable to determine what caused the door to go down.
On June 5 at 2:41 p.m., a resident on East Harpole Road called police because he was upset that people are putting their trash in his trash cans.
On June 6 at 8:35 p.m., a resident on West Front Street called police because a snake went into her oven.
On June 14 at 7:52 p.m., a driver reported that a calf was loose near the northbound service road of I-35W near Mile Marker 78. The responding officer found that the calf was behind the fence.
On June 16 at 10:56 a.m., a resident on Manor Drive reported that he had left his keys in his car overnight, and someone broke into it, moved the car halfway down the street, rifled through the middle console, stole his wallet and left the keys on the hood.
On June 18 and 19, police received multiple calls from Sam Davis Road about an injured buzzard that can't fly.
On June 21 at 4:30 p.m., a caller reported that a person was seen driving to vacant houses in the neighborhood, taking photos and looking into the backyards with binoculars. The responding officer located the subject at Stonecrest Road and Timberview Court, and the person said they was checking out the vacant houses because they are looking to move to the area.