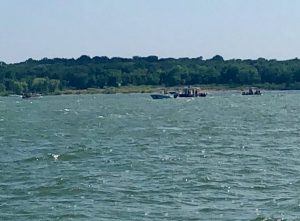 The Grapevine Fire Department continued to search Monday for a man who went missing in Lake Grapevine.
The man was with a group of people on Saturday morning in the west end of the lake, according to a Grapevine Fire Department news release. He was riding on an inner tube being towed by a boat when he fell off. He became distressed and went under water, and wasn't seen again.
He was not wearing a life jacket.
Grapevine Fire Department search boats and dive team responded, but the witnesses did not have a specific "last seen" point, so officials are searching a wide area in the lake for the missing man, who has not been identified.
The search continued Sunday with sonar grids, according to a news release. The department, along with help from the Texas Game Warden and Parks and Wildlife, began surface and shoreline searches Monday, said Fire Chief Darrell Brown.