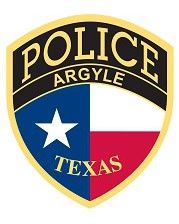 The following is a summary of incident reports recently made to the Argyle Police Department as compiled by the staff of The CTG:
On March 7 at 11:21 a.m., a resident in the 200 block of South Gibbons Road reported that someone hit their mailbox and damaged a street sign the night before.
On March 8 at 8:40 p.m., the CVS store at Hwy 377 and FM 407 reported two female shoplifting suspects.
On March 9 at 12:23 p.m., a woman walked into the Argyle Police Department to complain about the behavior of young drivers.
On March 9 at 5:48 p.m., a caller on Stonecrest Road reported an emaciated pitbull chasing horses in a pasture. An officer arrived and saw the horses casually eating grass with not a care in the world.
On March 11 at 6:34 a.m., an officer saw three loose horses in the 800 block of East Harpole Road. An officer secured them in a nearby gated pasture until the horses' owner was located and came to get them.
On March 11 at 8:58 a.m., a resident on Forest Trail reported seeing a man walk out of a vacant residence.
On March 29 at 8:27 a.m., police were called to a school bus that was stuck in the mud in the 300 block of Old Justin Road. Rumor has it the kids were not very motivated to help.
On March 29 at 1:09 p.m., a caller reported a brown calf was out wandering near the FM 407/I-35W interchange. An officer helped get the calf put up.
On March 30 at 1:04 p.m., a resident on Thornridge Circle reported that he was gone for four hours and returned home to find the front door smashed in and some of the back rooms had been rummaged through.
On April 4 at 3:48 p.m., a caller reported that an "Energizer" goat was running down I-35W in Argyle, when it was hit by a vehicle and got up and kept running.
On April 6 at 12:10 p.m., a caller reported a couple of goats out in the roadway near Frenchtown Road and Hwy 377.
On April 6 at 1:54 p.m., an Amazon delivery person called police because he was stuck inside a customer's gate on East Harpole Road and the homeowner was not answering the door. He called back five minutes later to say he had gotten out before the officer arrived.
On April 8 at 10:05 a.m., a caller cried fowl after reporting being attacked and chased by a wild turkey in the 800 block of FM 407.
On April 14 at 8:30 a.m., a construction worker reported vandalism in The Lakes of Argyle subdivision near Old Justin Road and Kay Street. One vehicle's window was busted, new fencing was torn down, port-a-johns were pushed over and landscaping was ripped out of the ground and left in the street.
On April 16 at 7:57 p.m., residents on Bent Creek Cove reported four teenage boys were looking in their garage. The boys said they were playing a game called "bigger and better," and they offered a stuffed duck to the resident for something bigger and better.
On April 29 at 1:16 p.m., a man stopped by the Argyle police station and told an officer he saw people in a gray BMW throw out trash near model homes on Country Lakes Boulevard and gave him the license plate number. The officer looked up the car owners' address, went to their home and spoke to the residents, who said their son drives the gray BMW, apologized for his behavior and said they would handle it.
On May 1 at 12:02 p.m., someone called police because a man was sitting on a blanket with his dog near FM 407 and I-35W.
On May 1 at 9:36 p.m., someone called police to report a suspicious truck in a construction site at Frenchtown Road and Hwy 377. The responding officer found construction workers loading up their own tools.
On May 4 at 10:13 a.m., a resident advised police that he's been getting phony phone calls saying he's wanted for an arrest.
On May 5 at 2:32 p.m., an officer saw a possibly suspicious vehicle and checked on the person inside. The driver had pulled over to eat ice cream and fell asleep.
On May 17 at 4:50 p.m., a man reported that he turned left at Country Club Road when another driver was trying to turn right, and that made the other driver so upset she followed him to his home.
On May 21, a resident reported that they were worried that their neighbor's cow was not being given food or water. An officer headed over and found that there was plenty of food and water available, and its owner said the cow had just been brought in to fatten her up.
On May 22 at 11:02 a.m., a caller reported seeing flames under the hood of a truck driving on I-35W. The truck pulled over and the fire was extinguished.
On May 23 at 10:53 a.m., authorities were called to a large column of black smoke near Stonecrest Road and Ridgecrest Drive. They discovered a resident had pushed over an old shed to burn it.
On May 23 at 11:19 a.m., a caller reported that a suspect has been seen multiple times stealing bricks from a house on Nora Lane.