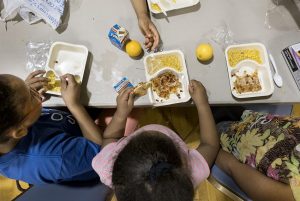 Throughout the state, schools and facilities are opening up to provide free meals to kids during the summer, and a few locations are in southern Denton County.
Any kids 18 and under can get free breakfasts and lunches through the Summer Food Service Program, which is run by the Texas Department of Agriculture. There are no other requirements for eligibility or qualification. Children do not have to be students in the school district to receive a free meal at one of that district's locations.
Timber Creek Elementary School, 1900 Timber Creek Road in Flower Mound, is participating in the free summer meals program from June 12 through June 29. Breakfasts are served Monday through Friday from 7:30 to 8:30 a.m., and lunches are served from 11 a.m. to noon.
Another location in southern Denton County is sponsored by the S. Tracy Howard Project at Hickory Creek Mobile Homes, 9100 Teasley Lane on the Denton city border. There, lunches and snacks are being provided June 4 through Aug. 17. Lunches are served from 11:30 a.m. to 12:30 p.m. Monday through Friday, and snacks are 1:30 to 2 p.m.
Many other locations are in nearby Lewisville, Lake Dallas and Denton.
All locations will be closed on July 4.
For parents, staff and other adults who would like to purchase a meal, breakfasts are $1.55 and lunches are $3.50.
Click here for more information.