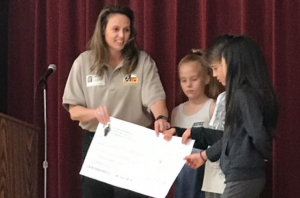 Third graders at a local elementary school recently donated more than $2,000 to the Flower Mound Animal Services department.
The third grade class at Forest Vista Elementary School in Flower Mound presented Flower Mound Animal Services with a check for $2,062.17 on June 6. The students raised the money though the Market Day program, an entrepreneurial program in which students create products from donated items and re-sell them to other students. The proceeds go to a charity that the students choose and this year, they chose the Flower Mound Animal Shelter.
The Flower Mound Animal Shelter is run by the town and funded by taxpayers, but its budget may not cover all its expenses, especially expensive medical treatments for homeless pets.
"Every dime goes straight toward the animals, their care and toward improvement of their overall quality of life," the department wrote on its Facebook page.