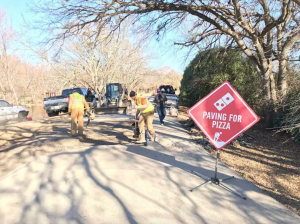 Bartonville was the first pilot city of Domino's new ad campaign, "Paving for Pizza," in which the pizza chain grants funds for road repairs.
Domino's launched the "Paving for Pizza" campaign Monday, saying poor road conditions "can put good pizzas at risk after they leave the store" in a news release.
"Have you ever hit a pothole and instantly cringed? We know that feeling is heightened when you're bringing home a carryout order from your local Domino's store," said Russell Weiner, president of Domino's USA.  "We don't want to lose any great-tasting pizza to a pothole, ruining a wonderful meal. Domino's cares too much about its customers and pizza to let that happen."
Domino's has already worked alongside four municipalities around the country to help repair roads that directly affect their customers: Milford, Delaware; Athens, Georgia; Burbank, California; and Bartonville.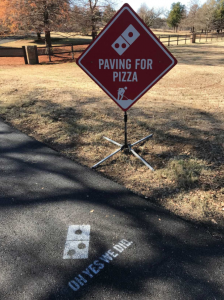 Bartonville Town Administrator Michael Montgomery wrote on the Engaging Local Government Leaders website that Domino's contacted him about the new campaign in July 2017, explaining that the company would grant funds to the town, and the town would then use the money to repair roads.
"I was ecstatic," Montgomery said. "I didn't think it was possible, but Domino's delivered on their promise to fix potholes in Bartonville."
Montgomery wrote that he presented the idea to Bartonville's Town Council in September.
"Our elected officials were excited that someone other than Bartonville taxpayers would be paying to fix our roads," Montgomery said.
According to the pizza chain's "paving report," eight potholes on three roads were repaired in December in Bartonville. 75 tons of asphalt has been used in all the repaving work.
"This unique, innovative partnership allowed the town of Bartonville to accomplish more pothole repairs," said Bill Scherer, mayor of Bartonville.
With the announcement of the ad campaign, Domino's is asking people to recommend other cities and towns across the country that need road repairs and would be good candidates to be "Paving for Pizza" participants.
Click here for more information about "Paving for Pizza."