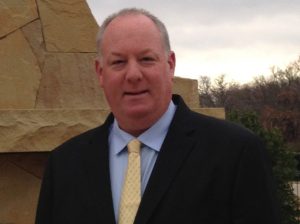 Nelson, Wills, Dent and Brittain Sworn-In
The Town of Double Oak congratulates Council-Elect Anita Nelson, Andrew Wills, Joe Dent and Ginger Brittain on their taking the oath of office. Thanks to Ted Gruenloh and Stacie Stoehner for their dedicated service on the Town Council.
Congratulations to Andrew Wills on his appointment as Mayor Pro-Tem and to Scott Whisenhunt on his appointment as Deputy Mayor Pro-Tem
A special thank you to the Double Oak Women's Club for providing refreshments for the reception.
Double Oak Police Department – National Police Appreciation and Memorial Week
Chief Derrick Watson and the Double Oak Police Department sincerely thank the Double Oak Women's Club and residents who came by during National Police Week and left delicious treats, cards of appreciation, posters or just stopped by to say, "Thank you for your service." On behalf of the town, thank you to the DOPD and all law enforcement.
 Fiscal Year 2018-2019 Budget Planning
Budget discussions begin in June to prepare for the next fiscal year which goes in effect on October 1st. The intent of the mayor, council, staff and citizens is to develop the '18-'19 fiscal year budget with no property tax rate increase and no use of prior year carry-over to balance the budget. These are two important goals that can be achieved by strategic planning, budget reductions, cost controls and tough decision making in keeping the best interests of the town and taxpayer at heart.
The current fiscal year operating budget is balanced without use of reserve funds from the balance sheet. Double Oak's ad valorem property tax rate is 0.23240 per $100, which is one of the overall lowest in Denton County and North Texas. Our town recently received another clean and very good annual audit report. The town has little debt and does not have any bond indebtedness. Double Oak operates on the principle philosophy of pay as we go and maintains a sound financial reserve for emergencies, operations of the town, capital improvements and for unexpected items that pop up. Council welcomes residents to attend our meetings as we proceed preparing the next fiscal year budget.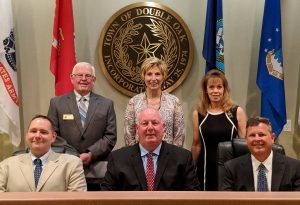 Annual DOVFD July 4th Parade and Picnic
Members of the Double Oak Volunteer Fire Department are making preparations for this fun annual event. They need volunteers to help set up and break down/cleanup, people to help with food, drinks and games. Students in need of volunteer community service hours for school and other organizations find this is a perfect & easy way to pick up some of those required hours. Needed are items or services to auction off with all proceeds going to the fire department. You can find more information about the DOVFD and annual 4th of July parade and picnic at www.dovfd.org.
If you wish to volunteer, donate items for auction or be a sponsor, please contact the DOVFD Fire Station @ 972-539-7683 or Captain Kathy Heimerdinger.
Remember to start getting those floats ready for the parade. Let's make this year's event one of the biggest and best ever. There will be lots of good food, drinks, music, fun for kids and adults, and, neighbors to visit with.
Code Enforcement: Tree limbs required 12-ft or higher over streets
Charlie Wright, our code enforcement officer, patrols the town monthly for the protection, and promotion of health, safety, property values and environment. It's a tough and necessary position that the town, residents and court take seriously. The town reinforces that residents need to look at their property, particularly tree limbs that hang over/into a street and ensure they are trimmed up to 12 feet or higher above the street surface as required by town ordinance. The most common property code enforcement violations are: tall grass and weeds, trash and debris, junk vehicles, right-of-way obstructions/low tree limbs, stagnant pools, property maintenance, working without a permit, vehicles parked on grass, brush and mulch piles for extended periods and signs posted illegally in right-of-way. The town appreciates and thanks residents who have already addressed issues on your property including the trimming up of low limbs over streets. When you receive a code enforcement letter from the town, please comply immediately and contact Charlie.
Stay Informed on Town News and Happenings
Town Secretary Charlotte Allen sends out email blasts as needed to inform the community of important events and happenings. This information also gets posted on the town website. Please send your email information to [email protected] with your written request to be added to her list and check the town website often at www.double-oak.com.
Recent Elections
Thanks to everyone that did their civic duty by voting in the March Primary, the May Municipal and School District Elections and the Primary Runoff Election.  A special recognition goes out to the election workers and the candidates.  Congratulations to the winners and Double Oak looks forward to working with you.
End of School Year – Graduations, Summer Break/Youth News & DOPD House Watch Program
The Town of Double Oak offers congratulations and best wishes to all Double Oak graduating students. Your town is very proud of you and the hard work you have put into the school year!
Drivers, please pay attention and obey the posted speed limit and stop signs as you drive in Double Oak as our kids will be out of school enjoying summer break playing and riding bikes along our streets.
Your Double Oak Police Department provides a House Watch Program when you are out of town traveling. Hundreds of residents use this service each year where you fill out a form and request a close patrol. Operating our own 24/7 full-time police department, the town is pleased to provide this service to all Double Oak residents.
Flag Day – Wednesday, June 14
 The United States celebrates Flag Day on June 14th each year to honor the United States flag and to commemorate the flag's adoption (June,1777). On the same day, the United States Army celebrates its birthday (June,1775). "Many have given their life protecting our country and freedom. On National Flag Day, June 14, raise "Old Glory" and fly it proudly."
Youth News by student Erik Dieterich
 Breaking clays, punching paper, and flying arrows are all part of the 4-H Shooting Sports project. If you enjoy the outdoors and hunting, you should join the fun that Texas 4-H Shooting Sports has to offer. My name is Erik Dieterich and I am a member of the Texas 4-H Shooting Sports Ambassadors. I am a 9th grader that has been involved in 4-H for 7 years. Shooting Sports has been one of my main projects for the past 5 years. My two disciplines are pistol and archery. This year I became a certified assistant pistol coach. Shooting sports has taught me leadership, discipline, and patience. I want to encourage others to participate in the Texas 4-H Shooting Sports project.
4-H is a community of young people across America who are learning leadership, citizenship, and life skills. 4-H is about having fun, learning, exploring, and discovering. In 4-H, young people make new friends, develop new skills, become leaders, and help shape their communities.
In Denton County 4-H, you can experience shooting several types of firearms: pistol, rifle, shotgun, and archery. This project covers firearm safety and teaches responsible handling and use. You will learn how to load and shoot a variety of firearms and how to properly maintain them. Before starting, you will be required to attend a Safety Training course for your desired discipline. This course will be led by one of Denton County's 4-H Certified Coaches. All practices will be conducted under the supervision of a Certified Coach. If you would like more information about 4-H Shooting Sports, please contact Jessica Kimbro at (940) 349-2890 or [email protected]
Happy Father's Day – Sunday, June 17
Thanks to all the dads, granddads, uncles, brothers, nephews and men out there being good examples for our kids in our communities.
Double Oak wishes all residents a fun, happy and safe Summer!