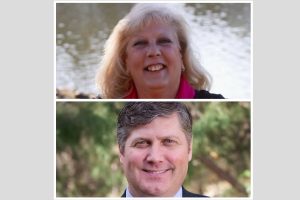 The Flower Mound municipal election last month was even more exciting than usual.
No one candidate in the four-way race reached more 50-percent of the vote for mayor. As a result, the top two vote-getters, Steve Dixon and Cathy Strathmann, are headed to a runoff election, which is set for Saturday, June 16.
Dixon (with 2,131 votes) and Strathmann (with 2,121 votes) deadlocked, each one with 43-percent of the vote. With only 10 votes separating the two top candidates, it proves, once again, that every vote counts in Flower Mound elections.
A mayoral candidate forum moderated by Bob Weir and sponsored by The Cross Timbers Gazette will be held this Thursday, May 31 at 7 p.m. at Flower Mound Town Hall.
The forum will available online at www.flower-mound.com and will be broadcast live and replayed on Flower Mound TV (FMTV).
FMTV is broadcast on Grande Cable channel 12, Time Warner Cable channel 16, and Frontier channel 42.
Early voting for the June 16 runoff begins this Monday, June 4.