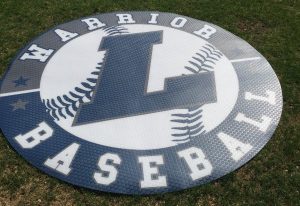 Liberty Christian baseball coach Johnny Isom has never entered a season where he didn't believe deep down that his team had enough talent to win it all. At the same time, he also knows reaching the top of the mountain in TAPPS is hard.
One of the biggest reasons why it's tough is because teams from the Houston area are loaded every year – perhaps more than Liberty is.
This year was no different, and as Isom and the rest of his coaching staff looked at the playoff bracket as it was unfolding, there was a good chance the Warriors' playoff run could be entirely against Houston-area teams.
That prediction came to pass, but the Warriors proved to be the better team as they claimed the TAPPS 6A Division I state title on Wednesday with a 6-4 win over Beaumont Monsignor Kelly Catholic at Crosby High School.
Liberty (29-12-1) fought back from an early 3-0 hole to claim its fourth state title – and first since 2013.
Their playoff road included wins over Houston St. Pius and St. Thomas.
St. Thomas has previously ended Liberty's season three times, and all three programs had Division I pitchers going to Sam Houston, Texas, and Texas A&M.
"Kelly was the one who ended our season last year," Isom said. "There are no breaks, and there haven't been any easy points during this run for these kids. It's literally been obstacle after obstacle. But these kids stepped up."
Isom added, "We've never won like this before. That's why this one is so unbelievably special."
Beaumont Kelly (21-5) had lost in the previous three state title games but looked to be too much to overcome with ace Thomas Burbank (Texas) on the hill. Burbank benefited from an early 3-0 cushion and held Liberty scoreless through the first three innings. He finished with seven strikeouts.
But as the game wore on, Isom said his team started stringing together quality at-bats. On top of that, Liberty pitcher Dawson Barr recovered from a rough first inning to stymie Kelly's bats and keep the score close.
"Burbank gives up a half a run a game on average, so to be down 3-0 early to him is not good," Isom said with a laugh. "But I told the guys from the beginning, if we are going down, we are going to be aggressive the whole way."
Liberty scored four runs between the fourth and fifth innings to tie the game at 4-4.
In the sixth, with Burbank out of the game, Corey McMann doubled in a run, and Joe Wolf singled on a line drive to left field to score another and give Liberty the lead for good. McMann went 2-for-4 with two runs scored and an RBI. He was named to the all-tournament team.
The title win was set up with another furious rally the night before over St. Thomas. Liberty also trailed 3-1 in that game but scored six runs between the fourth and fifth innings and added another in the seventh for an 8-4 win.
"I still can't believe it," Isom said. "For us to do what we've done and to be in the mix as much as we have been over the years, that's incredibly special to me," said Isom, who was an assistant with the 2003 team before leading the program to state crowns in 2009 and 2013.
"When I took the program over, I knew we had a program heading in the right direction. I just tried getting in the mode of not messing it all up. These kids work so hard, and I'm happy for them."
Written by Vivian Nichols