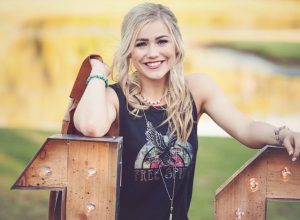 A trip to Nairobi, Kenya, last summer proved to be a life-altering experience for Argyle High School senior Mira Lillard.
Lillard, 17, who serves as president to of the AHS UNICEF Club, said that being able to make a trip to the African city put things into perspective for her and realize how fortunate she truly is.
"It opened my eyes to the tragedies people face around the world; and, in third world countries on a daily basis," Lillard said. "Being able to help and nurture kids that essentially have nothing was one of the most fulfilling things I have ever experienced."
The Argyle High School senior is ranked 37 in her class of 190 students, carries a 98 on a weighted 100 grade point average and is a member of the National Honor Society and Student Council at AHS.
Lillard is also a Pep Squad Leader and member of the Senior Leadership Group and the school's Fellowship of Christian Athletes.
"I love being busy and being a part of meaningful clubs, events and activities," Lillard said. "I feel like I have a very outgoing personality, which helps me talk to people that I don't know; speak in front of audiences and communicate effectively."
The Argyle teen plans to attend Texas A&M University in the fall and said she is pretty certain what direction she would like to take with regard to her major and career path.
"During the past year, I have found that I really enjoy creating things that catch people's attention, so I would like to major in Marketing and/or Advertising while minoring in Social Work," Lillard said. "This would allow me to continue to develop my creative side, while also spreading awareness about different world wide epidemics such as poverty, human trafficking and world hunger."
Lillard's Favorites
Favorite Subject – World History Junior Year with Mrs. Romero
Most inspired by – Grandfather, Dr. Paul Lillard
Favorite Food – My father's homemade Macaroni Salad
Favorite TV Show – "Friends"
Book I am reading – "We Believe You" by Annie E. Clark and Andrea L. Pino
Favorite Artist – Khalid
Nominate your favorite student for this monthly feature brought to you by Texas Health Presbyterian Hospital Flower Mound by emailing [email protected].