Flower Mound mayoral candidate Paul Stone has officially endorsed Steve Dixon in the June runoff election.
No one candidate reached over 50 percent of the vote on Saturday, so the top two vote-getters, Dixon and Cathy Strathmann, will face each other in the runoff.
Dixon and Strathmann were separated by only 10 votes.
Stone earned 529 votes and placed third in the four-way race. He issued the following statement on Tuesday: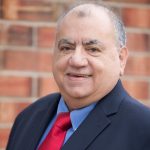 "Friends, I want to again thank you for your support, votes and kind wishes during this past general election. All the candidates worked hard and showed respect for each other. 
Now we have a runoff for the Mayor's position.
After discussion with family, friends and supporters, I have decided to endorse Steve Dixon for Mayor and I hope you all will support him as well.
Steve has shown the experience as a council member, as well as service on the town's boards and commissions. Steve is also active in community service as a member of the Chamber of Commerce and his membership in Rotary.
Finally, while not exactly the same, Steve and I share, for the most part, a positive vision for Flower Mound that will benefit the town as a whole.
I wish him luck and don't be surprised if you see me at the polls supporting him.
Over and Out!"
The runoff election will occur on Saturday, June 16. Early voting dates have not yet been announced.