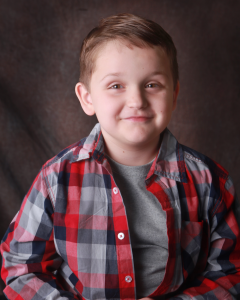 A 7-year-old Flower Mound boy will be a featured model at the upcoming Children's Cancer Fund Gala "Sweet 30th Anniversary."
Jackson Saden and 21 other featured pediatric cancer patients between the ages of 5-15 will take the runway Friday night at the Hyatt Regency Dallas in a candy-themed wonderland, according to a news release.
Jackson Saden was diagnosed with Hemophagocytic Lymphohistiocytosis  when he was 10 weeks old. HLH, which affects 1.2 million people, is an autoimmune dysregulatory syndrome resulting in severe inflammation and multi-organ failure. The only way to cure HLH is with a stem cell transplant.
"Once you go into remission, you go straight to transplant once a donor is
found," said Jackie Pull, Jackson's mom, adding that Jackson celebrated seven years since his transplant on April 15.
"Jackson has an infectious personality and loves everyone and never meets a
stranger," Pull said.  "In school, he is a friend to everybody no matter what their differences may be."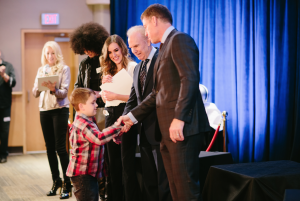 Jackson is in the first grade at Brent Elementary School in Little Elm ISD, where he enjoys math and playtime. He is an only child but has five dogs. When he grows up he wants to be a YouTube star. His hero is his Papa because "he swims and goes bike riding with me." His favorite musician is Bruno Mars, and he loves listening to "Uptown Funk."  If he could go anywhere in the world, it would be Disney World.
"I am so excited about being a fashion model because I think it's awesome to
give back, have fun and meet new people," Jackson said.
Presently, Jackson is dealing with residual issues from harsh chemotherapy treatments. He suffered damage to many of his baby teeth, and this same issue is affecting his permanent teeth as well.
"He is struggling some with reading and writing, and we are having him tested at Texas Scottish Rite Hospital for Children to see if he is dyslexic or if he has some learning issues due to chemo," Pull said. "But overall he is amazing, in great health, and he is still at 100 percent donor cells. All of the other issues are minor in the grand scheme of things. Overall he is our hero and always has such a positive attitude about everything."
Children's Cancer Fund brings together local celebrities, dignitaries,
philanthropists, sponsors, and media personalities to serve as runway
escorts for these young patients modeling in the fashion show. Co-Chairs Candice Romo and Hollie Siglin join longtime Honorary Co-Chairs Roger Staubach and Troy Aikman to kick off the event, which is expected to raise more than $1 million to support pediatric cancer research and treatment programs at Children's Health and UT Southwestern. The Ray Johnston Band will perform, as will the Jordan Kahn Orchestra and special guest DJ Tony Romo. Dallas Cowboys players and cheerleaders and Rowdy, the Cowboys mascot, will be there, as well as Juanika and Monta Ellis, the Kiss FM crew, Miss Texas Margana Wood, Medieval Red Knight, Pink Heals Firefighters, Batman, Dallas SWAT, Dallas Fire Station No. 19, Belle of Beauty and the Beast, and Children's Cancer fund alumnus Russell McKeon.
The gala, which is the organization's largest annual fundraiser for pediatric cancer, is sponsored by CBS 11 and features Karen Borta as mistress of ceremonies. Since 1982, Children's Cancer Fund has donated over $8 million to the childhood cancer cause. Individual tickets are $300 or $2,750 for a table of 10. Contact Children's Cancer Fund at 972-664-1450 or visit www.ChildrensCancerFund.com/Gala for reservations and more information.