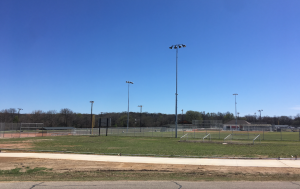 The town of Argyle will host its first annual Derby Day, a family-friendly event to celebrate the grand opening of the town's first park.
The event will run from 10 a.m. to 7 p.m. on May 5 and will include food, games, bounce houses, live music and live broadcast of the Kentucky Derby. If you are interested in volunteering at the event, click here.
The park, currently being called Argyle Community Park, is nearing completion along the south side of Crawford Road, just west of the railroad tracks. The land is owned by Argyle ISD and had some ball fields on it, but those fields are being upgraded and more amenities have been added, said Town Manager Matt Jones.
Concrete trails meander around the park edges and between the fields. A basketball goal and half-court have been put in, as well as a pavilion, a playground and sand volleyball pit.
The town received and matched a $500,000 grant from Texas Parks and Wildlife for the park and entered into a long-term lease with Argyle ISD.