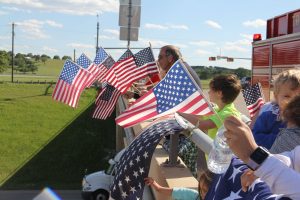 The annual Medal of Honor motorcade will drive through southern Denton County late Wednesday on its way to Gainesville for the Medal of Honor Host City Program.
The 21 recipients of the Medal of Honor will be escorted by North Texas motorcycle clubs and local law enforcement escort from DFW Airport to Gainesville for the annual event. Local towns and police departments have been reminding residents about the caravan, which may cause traffic delays as it heads west from the airport on Hwy 114 and north on I-35W. The motorcade will begin once the last medal recipient arrives at DFW Airport, which may vary. Most local towns expect the motorcade to pass through Southern Denton County in the late afternoon or early evening.
The Medal of Honor is the United States of America's highest military honor, awarded for personal acts of valor above and beyond the call of duty. It is awarded by the president of the United States in the name of Congress.
Many local residents and first responders safely line the motorcade route in a show of respect and support of the American heroes, often with American flags and signs. Groups tend to gather at Hwy 114 and Dale Earnhardt Way and along the service roads of I-35W northbound.
For more information, click here.