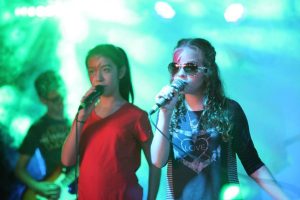 by Jessica Douglas
If you're like me, seeing a gaggle of teenage boys and girls clustered in front of an unassuming retail strip center might make you a little nervous. We often jump to the conclusion that this particular demographic huddled together, many of them holding drumsticks in their hands, might be up to no good.
However, if you see this group in front of the School of Rock in Flower Mound, located in the Kroger Shopping Center on the corner of Long Prairie and Cross Timbers, you couldn't be farther off the mark.
On any given night, you might see a group like this one outside this music studio and school waiting patiently for their rehearsal to begin. Yes, that's right–band rehearsal. At the School of Rock, the music students learn to perform in rock bands.
There are nine School of Rock locations in the Dallas area. The School of Rock Flower Mound opened its doors on October 7, 2013 according to the School's Music Director, Richard Sanchez. Sanchez, who has been with the school since its inception, makes it his daily mission to "teach the world to Rock on Stage and in Life."
Remember when taking music lessons meant sitting in isolation with one instructor while you learned songs that you would never want to play on your own? Not at this school. At the School of Rock, students according to their age, are placed in music classes that learn to play together as a band.
Highly trained music instructors teach the bands everything from Motown to Metallica. These bands then actually perform for audiences of their friends and families, as the bands must also market the shows and sell their own tickets. The performances are held at various locales all over DFW such as Hat Tricks in Lewisville, Lava Cantina in The Colony, Ridglea Theater in Fort Worth, and even a Rockstravaganza for all the Schools takes place in Deep Ellum.
The musicians not only learn music appreciation and technique, but to work together to overcome obstacles and challenges, and the reward, according to Sanchez, is not a trophy. The reward becomes the music that the bands play on stage together.
The first School of Rock began in 1997 in Philadelphia as the brainchild of Paul Green upon whom Dewey Finn's character of the movie "School of Rock" is loosely based. The concept of learning through performance quickly caught on and to-date there are over 200 locations in operation globally.
Teaching a myriad of instruments from percussion to guitar to piano to voice, the skilled instructors of the Flower Mound School of Rock are the daily hosts of musicians from area high schools like Marcus and FMHS. Additionally, they gladly welcome musicians of all levels from ages 7 to 107 with rookie and adult class offerings.
Contact the School of Rock at 972-539-0761 or check them out on Facebook to get details for performance dates and class schedules.
Jessica Douglas serves as an alternate board member on Flower Mound's Cultural Arts Commission.