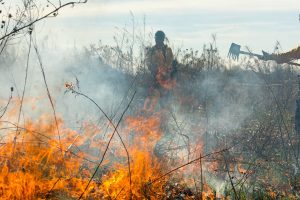 The town of Flower Mound has decided to postpone its planned prescribed burn on The Flower Mound until the fall.
Near record rainfall and early signs of spring have forced the Flower Mound Fire Department to postpone the prescribed burn on the northern half of The Flower Mound — originally planned for late February — until the fall, according to a town news release. The safety of the nearby homes and businesses, as well as The Mound's ecosystem and biodiversity, are of top priority when considering the best time to conduct a controlled burn, and ultimately FMFD has not been satisfied with weather conditions during the small window of time they had to execute this large project.
Winter and fall are the best times to conduct prescribed burns because the plants are dormant and the humidity is lower, allowing for more successful prescribed fires, the news release said.
FMFD worked with The Flower Mound Foundation to burn on the southern half of The Mound in March 2017 to remove invasive plant species to allow native prairie grass and wildflowers to thrive.