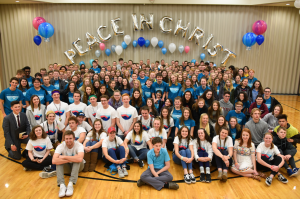 More than 275 teens from Flower Mound, Highland Village, Lantana and the surrounding areas came together last week to work on a project to benefit low-income families with premature babies.
The young folks, ages 14-18, took part took part in an annual youth conference sponsored by Lewisville Stake of The Church of Jesus Christ of Latter-day Saints, according to a news release. They gathered around tables filled with sewing machines and fabric to sew more than 500 hats and make more than 100 tote bags and blankets, which were all donated to Parkland Memorial Hospital in Dallas, where many patients lack resources.
"We're trying to provide some peace and hope to these families by donating some basic necessities during a challenging time," said Kennedi Jay, a junior at Marcus High School. "Many families don't have the financial ability to purchase these items on their own. We put our faith in Christ and help each other."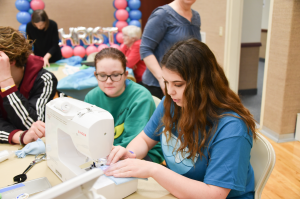 Disposable diapers, wipes, newborn clothing other basics, including 100 hand-crocheted preemie beanies, were also collected from neighbors and members of local congregations.
"Some of these babies are so small you can fit them in the palm of your hand. It's hard to have a premature baby. If we are able to contribute in little ways, we can help these disadvantaged kids and their families know they're not alone," said Logan Parker, a junior at Flower Mound High School. 
If you would like to make a donation to Parkland Memorial Hospital, call 469-419-0808.